Mexico Uses Robot To Safely Remove 'Dirty Bomb' Material From Cornfield, Nuclear Agency Says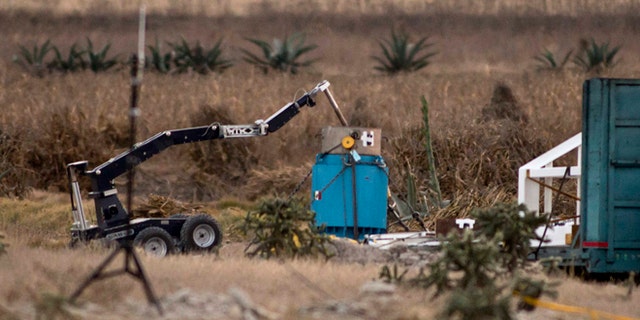 MEXICO CITY (AP) – Mexico's nuclear safety director says workers have succeeded in safely removing a shipment of radioactive cobalt-60 that had sat in a cornfield for almost a week after being abandoned by thieves.
Juan Eibenschutz says a robot completed scooping up the dangerous material Tuesday evening. He says the cobalt-60 was put in a safe container and is now being transported to a nuclear waste treatment facility.
The cobalt-60 was being carried in a truck that was stolen in central Mexico on Dec. 2.
Authorities found the truck two days later with the shipping container empty. The radioactive material was then tracked down to the field near the truck.
Five people are being held as suspects in the case.
Of the detained men, ages 16 to 38, only the 16-year-old showed signs of radiation exposure and he was in good health, a spokeswoman for Hidalgo's Health Department said on condition of anonymity because she isn't allowed to discuss the case.
After being cleared by health authorities on Friday, the men were turned over to federal authorities in connection with the case of the cargo truck stolen Monday at gunpoint outside Mexico City. The cobalt-60 it was carrying was from obsolete radiation therapy equipment.
Hidalgo state Health Minister Pedro Luís Noble said earlier Friday the men suffered from skin irritations and dizziness, but that none were in serious condition. Only one was vomiting, a sign of radiation poisoning.
The theft triggered alerts in six Mexican states and Mexico City, as well as international notifications to the U.S. and the International Atomic Energy Agency in Vienna. It raised concerns that the material could have been stolen to make a dirty bomb, a conventional explosive that disseminates radioactive material.
The atomic energy agency said the cobalt has an activity of 3,000 curies, or Category 1, meaning "it would probably be fatal to be close to this amount of unshielded radioactive material for a period in the range of a few minutes to an hour."
The cobalt-60 was from a hospital in the northern city of Tijuana and was being transported to nuclear waste facility in the state of Mexico, which borders Mexico City.
Authorities maintained a 500-meter (yard) cordon around the site where the cobalt-60 still remains in the state of Mexico and continued to work Friday to extract it safely, said Juan Eibenschutz, director general of Mexico's National Commission of Nuclear Safety and Safeguards.
"It's quite an operation and it is in the process of being planned," he said. "It's highly radioactive, so you cannot just go over and pick it up. It's going to take a while to pick it up."
Follow us on twitter.com/foxnewslatino
Like us at facebook.com/foxnewslatino