Mexican soldiers killed after gunmen open fire on helicopter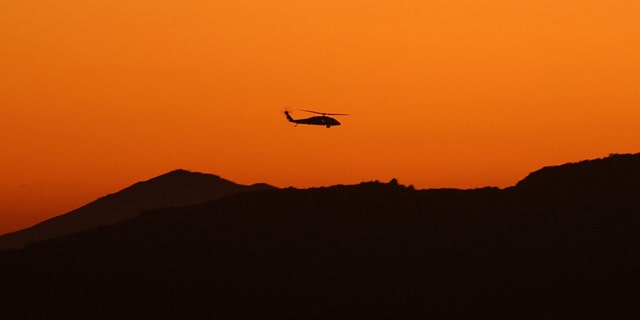 NEWYou can now listen to Fox News articles!
GUADALAJARA, Mexico (AP) – Mexico's defense department said that three soldiers were killed Friday in the western state of Jalisco when gunmen fired on a helicopter.
Twelve others — 10 soldiers and two federal police officers — were also injured and the helicopter was forced to make an emergency landing. Three other soldiers were missing, according to the statement.
President Enrique Peáa Nieto said through his Twitter account that he lamented the soldiers' deaths in the course of their work in Jalisco.
Friday morning started with authorities in Jalisco asking residents to stay at home as they scrambled to extinguish burning vehicles blocking roads in various parts of the state capital Guadalajara and other parts of the state. Fires were also reported in the coastal tourism destination of Puerto Vallarta.
The state prosecutor's office used its Twitter account to ask residents of Guadalajara to remain calm Friday morning as authorities responded to the blockades ignited by a drug cartel. It said authorities were coordinating to extinguish fires and regain calm in other parts of the state's interior.
Such blockades are a common cartel response to the arrest of important members or are used to foil police and military operations.
The activity came as Mexico celebrated the May 1 holiday and the federal government announced the implementation of "Operation Jalisco" to improve the state's security without providing further details.
The defense department said the helicopter that took fire was participating in Operation Jalisco near Villa Purificación, about 150 miles (250 kilometers) southwest of Guadalajara.
Last month, the Jalisco New Generation cartel killed 15 state police officers in an ambush.
Like us on Facebook
Follow us on Twitter & Instagram