Mexican Government Condemns Killing Of Man Who Attacked Border Patrol Agent With Stones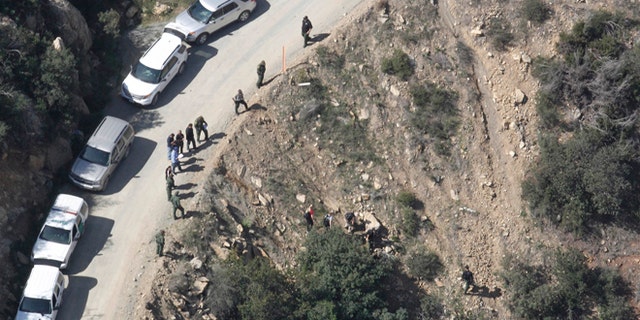 SAN DIEGO (AP) – The Mexican government on Thursday condemned a U.S. Border Patrol agent's fatal shooting of a Mexican man who allegedly struck the agent in the head with a rock near the U.S.-Mexico border.
Mexico's Foreign Relations Department said in a statement that it was "profoundly concerned" about the killing of Jesus Flores Cruz, 41, near San Diego. The department said lethal force should be avoided in immigration enforcement.
The unidentified agent fired his gun Tuesday after Flores Cruz hurled several large rocks, including one about the size of a basketball, according to the San Diego County Sheriff's Department, which is leading the investigation.
One of the larger pieces hit the agent in the head and that the agent feared for his life, investigators said.
Flores Cruz suffered two gunshot wounds, the sheriff's department said. Authorities said they confirmed his identity with a fingerprint match from a 1996 arrest by the U.S. Drug Enforcement Administration. No further details on that arrest were released.
Remedios Gomez Arnau, Mexico's consul general in San Diego, said the agent is the only surviving eyewitness. Two other Mexicans who entered the country illegally and were arrested nearby heard gunfire but did not witness the shooting, she said.
The Mexican government has been unable to locate Flores Cruz's family and doesn't know which part of the country he is from, Gomez Arnau said.
Under current policy, agents can use deadly force if they have a reasonable belief that their lives or the lives of others are in danger. The Border Patrol has long maintained rocks can be lethal weapons.
The Police Executive Research Forum, a nonprofit group that led a government-commissioned review, previously recommended that the Border Patrol and its parent agency, Customs and Border Protection, prohibit deadly force against rock-throwers and assailants in vehicles, Border Patrol Chief Mike Fisher told The Associated Press last year.
Customs and Border Protection rejected the proposed curbs, which Fisher called "very restrictive."
Gomez Arnau, the consul general, said Thursday that the U.S. should heed recommendations against lethal force, including the proposed ban on killing rock-throwers.
"There should be greater attention to all these recommendations against lethal force," she said at a news conference. "Of course the details and circumstances vary. However, it is important to act on these recommendations."
Agents were attacked with rocks 339 times in the 2011 fiscal year, more than any other type of assault, according to the Department of Homeland Security inspector general. They responded with gunfire 33 times and with less-than-lethal force — a category that includes pepper spray and batons — 118 times.
Rock attacks fell to 185 instances in fiscal 2012, becoming the second-most-common type of assault. Agents fired guns 22 times and responded 42 times with less-than-lethal force.
Department of Homeland Security Deputy Secretary Alejandro Mayorkas didn't address specifics when asked about the shooting Wednesday but said the Border Patrol's use-of-force policy would be publicly released.
"We are committed to ensuring the safety of our men and women who put their lives on the line on the border," he said. "At the same time we are committed to ensuring that our use-of-force policies are a reflection of best practices."
Follow us on twitter.com/foxnewslatino
Like us at facebook.com/foxnewslatino