Mexican Drug Gangs Attack Army Bases Near the Border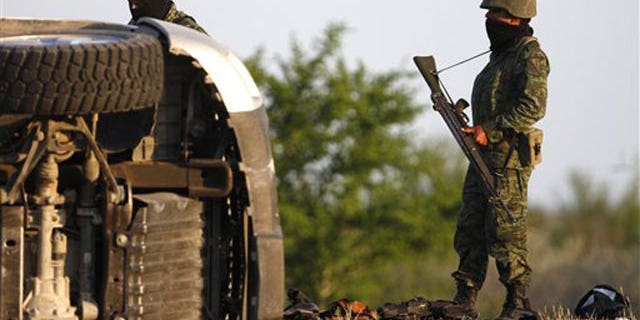 Drug gangs in Mexico have attacked two army bases in a serious escalation in the country's drug war.
Eighteen gang members died in the ensuing gun battles, in which gunmen attacked in force in bulletproof vehicles, using hand grenades and assault rifles.
The attempts to blockade soldiers inside their bases were part of seven attacks across two northern border states of Tamaulipas and Nuevo Leon - areas that have seen escalating violence in recent months.
Army General Edgar Luis Villegas called the attacks "desperate reactions by criminal gangs to the progress being made by federal authorities" on
He said gunmen parked trucks and SUVs outside a military base in the border city of Reynosa trying to block troops from leaving. At the same time, other armed men blocked several streets leading to a garrison in the nearby border city of Matamoros.
And yet another gang opened fire from several vehicles on soldiers guarding a road in General Bravo, in Nuevo Leon.
Troops fought back, killing 18 gunmen and wounding two.
The violence mainly involves a fight between the Gulf cartel and its former allies, the Zetas - a gang of hit men.
The cartel, which has apparently formed an alliance with other cartels seeking to exterminate the Zetas, has been warning people in the region that the conflict would get worse over the coming months.
Click here to read more on this story from Sky News.