Mexican drug bust uncovers 100 lbs of fentanyl, other drugs, authorities say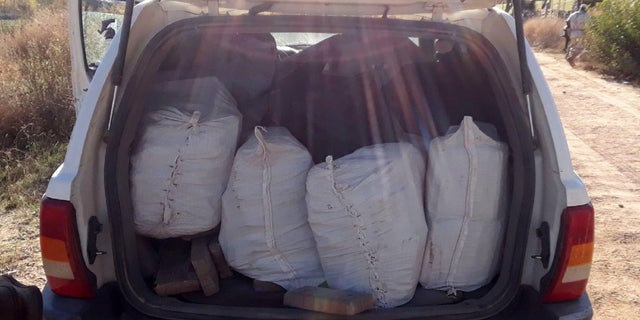 A massive drug bust in Mexico uncovered 100 pounds of fentanyl, along with a slew of other illegal drugs, authorities said Thursday.
Police discovered the haul near Ensenada, located in the Mexican state of Baja California, after pulling over an SUV that lacked a front license plate.
COCAINE, METH TRAFFICKERS INCREASINGLY USING VULNERABLE US SEAPORTS TO SMUGGLE DRUGS
The back of the vehicle was stuffed with several sacks filled with the synthetic opioid fentanyl, as well as 914 pounds of crystal meth, 88 pounds of cocaine and 18.5 pounds of heroin, police said. The driver was arrested.
Fentanyl can be fatal in doses of just a few milligrams. To put the size of the haul in perspective: four and a half pounds of the drug that was seized in Columbus, Ohio last year was said to be enough to potentially kill the entire population of the city of 860,000 people, according to prosecutors at the time.
ROCK LEGEND TOM PETTY DIED OF ACCIDENTAL OVERDOSE, FAMILY MEMBERS SAY
According to an autopsy report, fentanyl was found in the system of the late rocker Tom Petty, along with oxycodone. His Oct. 2, 2017 death was ruled an accidental overdose, according to his family.
An accidental overdose of fentanyl was also determined to have killed music legend Prince in April 2016.
The Associated Press contributed to this report.