Mexican authorities detain 5 suspects accused of hacking up body of slain police officer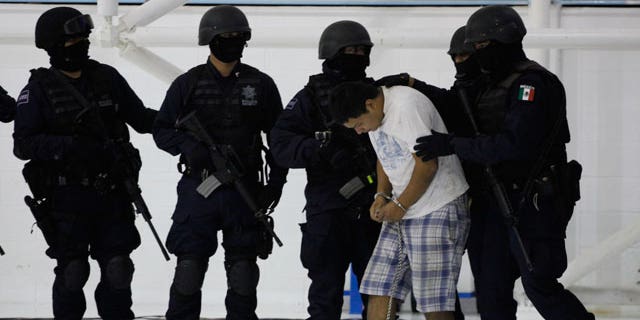 MEXICO CITY – MEXICO CITY (AP) — Mexican authorities say that police in Ciudad Juarez have captured five alleged drug gang members suspected in the killings of two federal officers, including one whose body was hacked to pieces.
One of the suspects is also believed to have acted as a lookout in the July 15 car-bomb attack on police that killed an officer and two other people, Luis Cardenas Palomino, regional security chief for the federal police, said Friday.
He described the five men as members of the La Linea gang, which works for the Juarez drug cartel. He alleged they killed two federal officers last week in Ciudad Juarez and then hacked up one of the bodies.
In the Pacific coast state of Michoacan, police found the bodies of six people in two locations, authorities said Friday.
Prosecutors said the bodies of four males, including two teenagers, were found Thursday with their hands and feet bound inside a car in the town of Tepalcatepec. All had been shot to death.
Minutes earlier, police in Tepalcatepec found the body of a man and a woman alongside a road, prosecutors said.
More than 28,000 people have been killed in drug-related violence since President Felipe Calderon launched an offensive against drug traffickers in late 2006, sending thousands of troops and federal police to drug hot spots.