Merkel welcomes Italy's new premier plans for economic reforms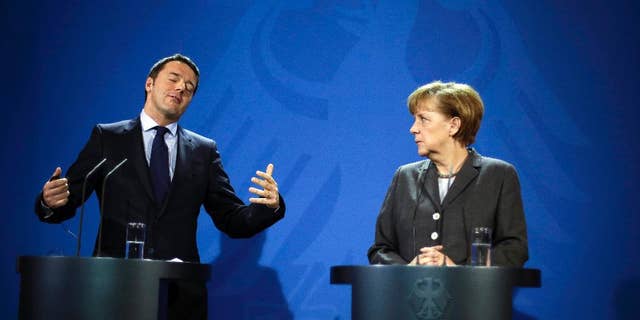 BERLIN – German Chancellor Angela Merkel says she is "thoroughly impressed" by new Italian Premier Matteo Renzi's plans for economic reform.
Merkel is one of the driving forces behind demands for austerity from the European Union's heavily-indebted southern member states.
Renzi traveled to Berlin on Monday to outline his plans for a fundamental structural reform of the Italian economy by 2018.
Speaking to reporters after the meeting, he said the reforms were necessary for Italy to remain competitive and praised particularly Germany's dual-path education system where some young people go into academia while others do apprenticeships.
Rising youth unemployment is one of Italy's biggest problems.
Renzi said even though his plans include tax cuts, Rome will abide by European Union rules on government spending.