May Day violence breaks out in Paris; demonstrations around the world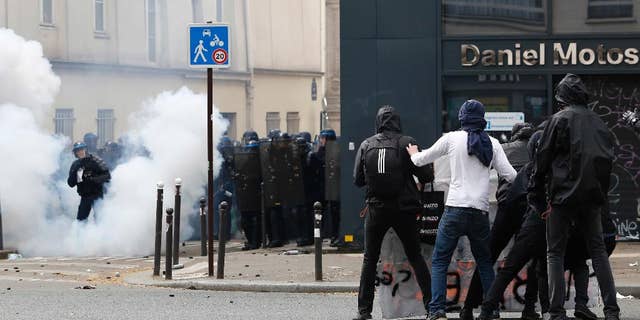 Police in Paris deployed tear gas on hundreds of protesters during a May Day workers' march on Monday, less than a week before the runoff French presidential election.
Four officers were injured when hooded demonstrators threw Molotov cocktails, firebombs and other objects at the police near Place de la Bastille, BFM-TV reported. Officers deployed tear gas and thruncheons as riot police clubbed protesters against a wall on a tree-lined avenue. Video showed riot police surrounding the protesters disrupting the march.
The violent protesters, who did not carry any union or election paraphernalia, appeared to be from the same fringe groups that have targeted anti-government protests in the past.
The union activists continued to march separately, though police began conducting bag checks for gasoline bombs in the crowd.
Both candidates in France's May 7 runoff election responded to the violence shortly after, with far-right candidate Marine Le Pen calling it a "disgrace."
LE PEN VISITS FRENCH FACTORY, MACRON WINS ALLY BEFORE RUNOFF
"It's this disgrace and this laxity that I don't want to see on our streets," Le Pen wrote on Twitter.
Centrist candidate Emmanuel Macron paid tribute to the injured police officers by calling for the crowd at a Paril hall to stand up and applaud them, according to BFM-TV.
SLIDESHOW: MAY DAY DEMONSTRATIONS, RALLIES AND CELEBRATIONS AROUND THE WORLD
Dozens of protests, rallies and celebrations took place worldwide on Monday during May Day, marked as International Workers' Day.
German police braced themselves for possible violence at a street festival in Kreuzberg district where about 10,000 people gathered. More than 5,000 police officers mobilized at the festival were a demonstration was planned.
Berlin has experienced major May Day riots in the past, though recent years have been relatively calm. Still, some 50 officers were hurt last year in a brief, but violent clash.
In the eastern city of Erfurt, about 1,200 supporters of the nationalist Alternative for Germany rallied, holding signs with slogans like "no mosques in Germany." The demonstration was peaceful, according to police.
In Istanbul, police detained 165 people during May Day events around the city, most of them people trying to march to Taksim Square, which was labeled off-limits to demonstrations. Scuffles broke out between police and small groups trying to reach the square.
Taksim holds a symbolic value for Turkey's labor movement. In 1977, 34 people were killed there during a May Day event when shots were fired into the crowd from a nearby building.
A security department statement said that another 18 people suspected of planning illegal demonstrations and possible acts of violence were detained in separate police operations.
South African President Jacob Zuma's May Day speech was canceled after fights broke out between supporters and workers demanding Zuma to step down.
The scandal-ridden president was expected to call for unity between his ruling party, the African National Congress, and labor unions at the rally in Bloemfontein. But Groups in the crowd booed the president and clashed with his supporters before he could speak.
The Congress of South African Trade Unions canceled all scheduled speeches.
A protester briefly sprinted in front of May Day marchers in Cuba with a U.S. flag during the start of the country's largest annual political event.
President Raul Castro watched along with other military and civilian leaders and foreign dignitaries as the man broke through security and ran ahead of the tens of thousands in the pro-government march.
Plainclothes officers struggled to control the man but eventually lifted him off the ground and hauled him away in front of foreign and Cuban journalists covering the parade.
The Associated Press contributed to this report.