Massive waterspout in Malaysia spins off shore before making landfall, damaging up to 50 buildings
A massive waterspout roared ashore into a town on the Malaysian island of Penang on Monday, damaging dozens of buildings as stunned residents took to social media to share images of the towering whirling column of air.
The spout was reported around noon after a heavy downpour off the coast of Tanjung Tokong, located on the northeastern coast of the island.
The waterspout was seen spinning for about 5 minutes before it briefly moved onto land and damaged up to 50 homes, Channel News Asia reported.
2 CHILDREN KILLED AFTER DUST DEVIL BLOWS AWAY BOUNCE HOUSE IN CHINA
After moving into the land, some houses had their roofs ripped off and several trees were knocked down by the waterspout. Even with the damage, a defense spokesman told reporters that no injuries were reported.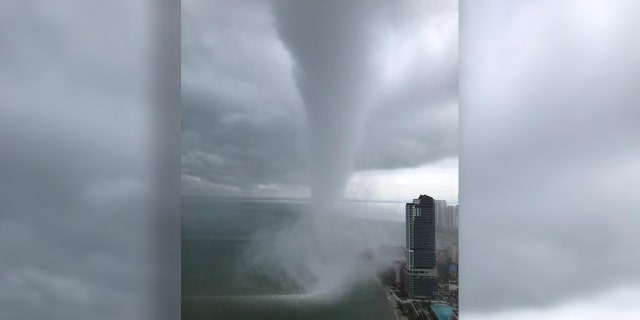 "We are currently busy clearing the debris from houses which were ripped off by the storm," the spokesman said.
Resident Mohd Fareez Othman told the New Straits Times that he was forced to take cover in a nearby building after spotting the waterspout moving in.
"It was huge," he said. "I have lived here for more than 20 years, and have never seen such an incident before."
HAIL PELTS NORTHERN TEXAS 'LIKE A SNOWSTORM,' DAMAGING HOMES AND VEHICLES
Residents posted photos and video to Facebook and Twitter to show the encounter with the massive column of swirling air.
"The sound of the wind was deafening and I saw part of the roof of my house being blown away by the wind," resident Nona Khalid said, according to Channel News Asia. "Indeed it was very scary and took place for the first time in the 50 years I have been staying here."
A waterspout is a "whirling column" of air and water mist, according to the National Oceanic and Atmospheric Administration. They can fall into two categories: fair weather waterspouts and tornadic waterspouts.
"Tornadic waterspouts are tornadoes that form over water, or move from land to water. They have the same characteristics as a land tornado," the agency notes. "They are associated with severe thunderstorms, and are often accompanied by high winds and seas, large hail, and frequent dangerous lightning."
Fair weather waterspouts are generally not associated with thunderstorms, and form in "light wind conditions so they normally move very little."
CLICK HERE FOR THE FOX NEWS APP
If a waterspout moves onshore, a weather service would issue a tornado warning, as some can cause "significant damage and injuries to people," according to the NOAA.
"Typically, fair weather waterspouts dissipate rapidly when they make landfall, and rarely penetrate far inland," according to the agency.