Massive flooding in Argentina kills 12 and causes thousands to evacuate homes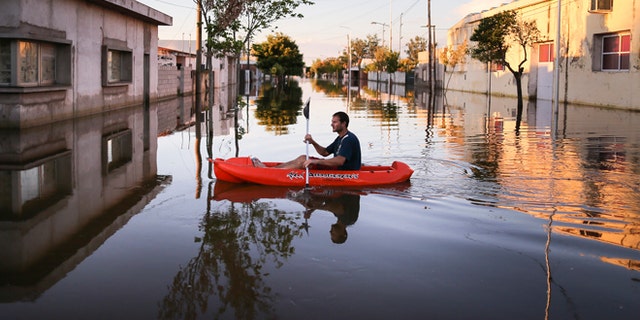 BUENOS AIRES, Argentina (AP) – Flooding from heavy rains has left 12 people dead in Argentina, officials said on Friday
Swollen rivers in the past weeks have also forced the evacuation of thousands of people.
The civil defense agency of the northern province of Córdoba said Friday that 10 victims have been found there, the most recent of them a farmworker who was caught in a swollen creek in El Fortin, some 430 miles (700 kilometers) north of the Argentine capital.
A total of 1,434 people have been evacuated in Córdoba, where it rained as much in the past few weeks as all of last year. Those evacuees include all 1,000 people in the town of Idiazabal, which is completely flooded.
Improved weather is expected in the coming days, according to the provincial civil defense.
The state news agency Telam also reported that two victims died in the province of Santiago del Estero, some 700 miles (1,150 kilometers) north of Buenos Aires. About 3,000 people have so far been evacuated in that province.
Like us on Facebook