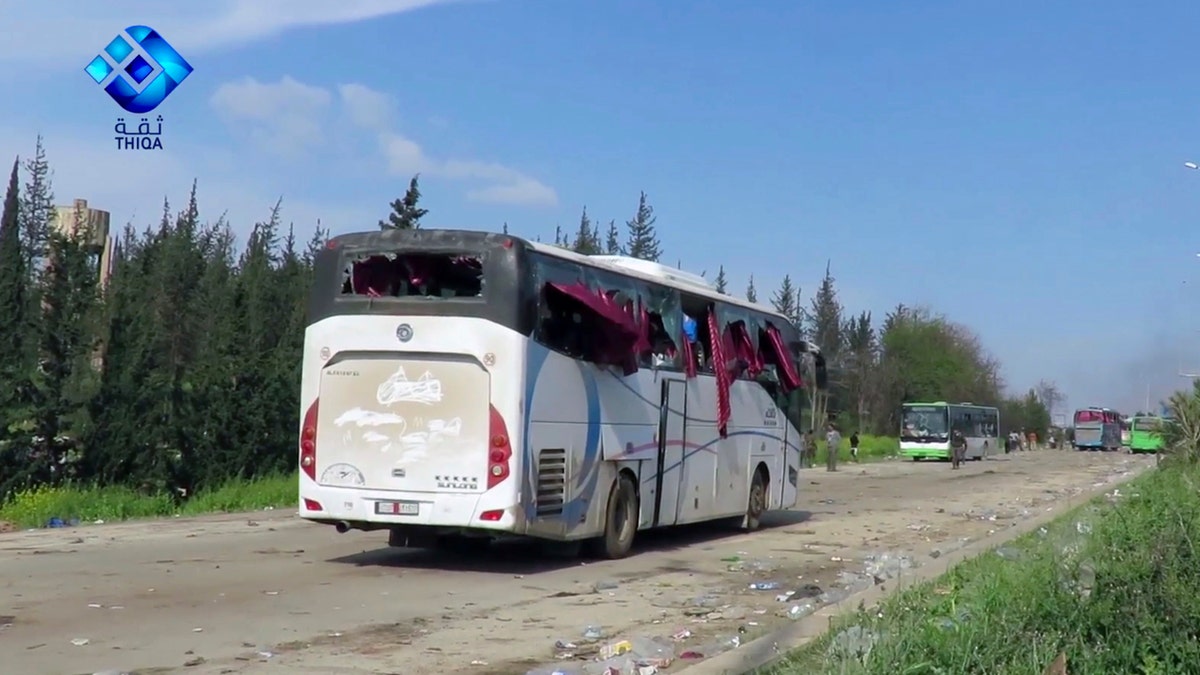 More than 3,000 Syrians will be evacuated Sunday from four areas as part of a population transfer that was briefly stalled by a deadly blast that killed over 100 people earlier this weekend.
The United Nations is not overseeing the transfer deal, which involves residents of the pro-government villages of Foua and Kfarya and the opposition-held towns of Madaya and Zabadani. All four of the Syrian towns have been under siege for years, with their fate linked through a series of reciprocal agreements that the U.N. says have hindered aid deliveries.
Rami Abdurrahman, who heads the Britain-based Syrian Observatory for Human Rights, and Hezbollah's Al-Manar TV reported 3,000 people will be evacuated from the towns of Foua and Kfarya, while 200, the vast majority of them fighters, will be evacuated from Zabadani and Madaya.
Abdurrahman told the Associated Press that Saturday's blast —which hit an area where thousands of government loyalists evacuated the day before had been waiting for hours — killed 112. The total number dead included 98 people from Foua and Kfarya, according to Abdurrahman.
In the wake of the blast, some 60 buses carrying 2,200 people, including 400 opposition fighters, entered areas held by rebels in the northern province of Aleppo, Abdurrahman said. More than 50 buses and 20 ambulances carrying some 5,000 Foua and Kfarya residents entered the government-held city of Aleppo, Syrian state TV said, with some of them later reaching a shelter in the village of Jibreen to the south.
U.N. relief coordinator Stephen O'Brien said he was "horrified" by the deadly bombing, and that while the U.N. was not involved in the transfer it was ready to "scale up our support to evacuees."
He called on all parties to uphold their obligations under international humanitarian and human rights law, and to "facilitate safe and unimpeded access for the U.N. and its partners to bring life-saving help to those in need."
Residents of Madaya and Zabadani, formerly summer resorts, joined the 2011 uprising against President Bashar Assad. Both came under government siege in the ensuing civil war. Residents of Foua and Kfraya, besieged by the rebels, have lived under a steady hail of rockets and mortars for years, but were supplied with food and medicine through military airdrops.
Critics say the string of evacuations, which could see some 30,000 people moved across battle lines over the next 60 days, amounts to forced displacement along political and sectarian lines.
The Associated Press contributed to this report.