Marine Corps lifts grounding of MV-22 Osprey and other aircraft in deployed unit following crash
The U.S. Marine Corps announced Wednesday it was lifting an "operational pause" for the roughly 20 aircraft assigned to the 31st Marine Expeditionary Unit, which suffered the loss of an MV-22 Osprey over the weekend off the coast of Australia -- resulting in the deaths of three Marines.
The Osprey slammed into the back of USS Green Bay, a U.S. Navy amphibious transport ship, while attempting to land.
In addition to grounding the MV-22 Ospreys in the deployed unit threat, Marine Corps AV-8B Harrier jets, CH-53 Super Stallion helicopters, AH-1Z Cobra helicopter gunships were also grounded for two days.
A Defense Department official told Fox News the Marine Corps is weighing a decision to ground its entire fleet of aircraft for a day across the service following the second deadly crash of a Marine Corps aircraft. Last month, a Marine Corps cargo plane crashed in the Mississippi Delta, killing all 16 aboard.
MARINES WHO DIED IN OSPREY CRASH IDENTIFIED
As a result of the crash in Mississippi, the Marine Corps grounded all of its KC-130T aircraft. The Navy soon followed suit and grounded its version of the airplane.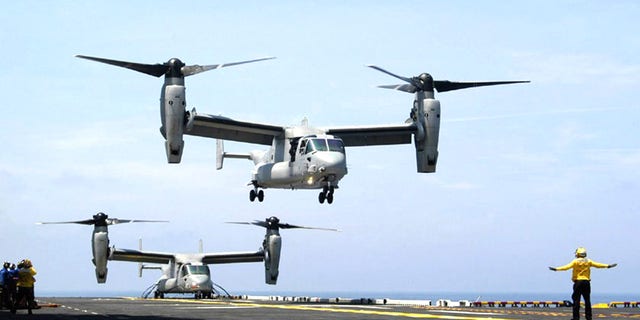 In a previously unreported episode, for the first time in the three-year-old war against ISIS, a U.S. Navy fighter squadron was grounded for a week aboard USS George H.W. Bush. from July 12-19. As US-backed Syrian forces were battling ISIS in Syria, the U.S. Navy was forced to ground all 10 F/A-18 fighter jets in VFA-37, after two pilots flying older model F-18C Hornets fell ill with decompression sickness, a long-standing problem with the jet's cabin pressure.
The two pilots required treatment in a decompression-chamber-like machine.
The USS George H.W. Bush is the first aircraft carrier to deploy with a chamber aboard after a spike in what the Navy calls "physiological episodes," which many officials blame on flying old planes.
Every deployed aircraft carrier in the U.S. Navy now carries decompression chambers aboard.
A U.S. Navy spokesman confirmed the grounding to Fox News.
"Naval Aviation Leadership directed an operational pause for Strike Fighter Squadron (VFA-37) at the conclusion of the flight schedule July 12…the pause was lifted on 19 July," said Cmdr. Jeanette Groeneveld.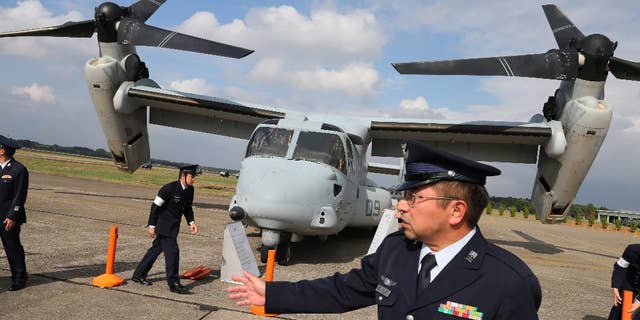 Groeneveld said there was "no operational impact" on the aircraft carrier's ability to support the ISIS fight in Syria, where the majority of strikes are now conducted. She noted that there are 34 other more advanced F-18 Super Hornets that remained operational among the three other strike fighter squadrons in the carrier's airwing.
US MARINE OSPREY CRASHES OFF JAPAN, 5 RESCUED
VFA-37 is one of four operational Navy squadrons continuing to fly older F-18 "C" model Hornets. The Navy has made it a priority to remove these older jets from deployed aircraft carriers to "build a more ready and capable forward-deployed force and allow cost savings," according to Groeneveld, that go along with fixing these legacy jets. Because the F-18C is no longer produced anymore, there's a shortage of spare parts in the supply system which exacerbates the challenge of keeping the jets airborne.
The Navy's Chief of Naval Operations, Adm. John M. Richardson, recently decided to accelerate the phase-out of the early model F-18s beginning this month with one squadron and ending in 2019, according to Navy officials.
The Marine Corps exclusively flies the older model F-18A-D Hornets, which have long suffered from a lack of spare parts grounding jets and robbing young pilots of valuable training. Currently, about 70 percent of Marine Corps F-18s can't fly. About half the Navy's Hornets are fully mission capable right now.
"We're working these airplanes beyond their design life so that when they do have to go in for maintenance they stay there longer because they're more problems to fix," said Republican House Armed Services Committee Chairman Mac Thornberry from Texas in a recent interview with Fox News.
"You know it's just like us if we don't keep up with the routine maintenance on our house or our car when you do need to get it fixed it takes longer and it costs more."
The F-18 was originally designed for 6,000 flight hours. Budget cuts and the delay of the Joint Strike Fighter forced the Marine Corps and Navy to continue flying them. A majority of the jets were extended to 10,000 flight hours.
In April, the U.S. Navy grounded its fleet of T-45 training jets (over 150 jets in all), following a Fox News report that roughly 100 flight instructors refused to fly the jet complaining about poison in the jet's oxygen system. Four months later, flights have begun to resume using modified equipment to detect contamination in the oxygen system, but the cause remains elusive.
Vice President Mike Pence's son is one of the Marine Corps student pilots affected by the delay in flight training.
Some officials are concerned the log-jam caused by grounding the fleet of Navy and Marine Corps training jets will create problems for deployed Navy and Marine Corps forces. Already the Navy is working on extending some pilots aboard deployed aircraft carriers to make up for the gap in training, according to officials.
In recent days, USS Nimitz, another aircraft carrier, began airstrikes against ISIS flying missions from the Persian Gulf.
USS George H.W. Bush is currently conducting a joint training exercise alongside British counterparts in the Royal Navy near the United Kingdom. Bush will return to her homeport of Norfolk, Va. a short time later.