Man's body washes ashore at Mexican beach resort popular with tourists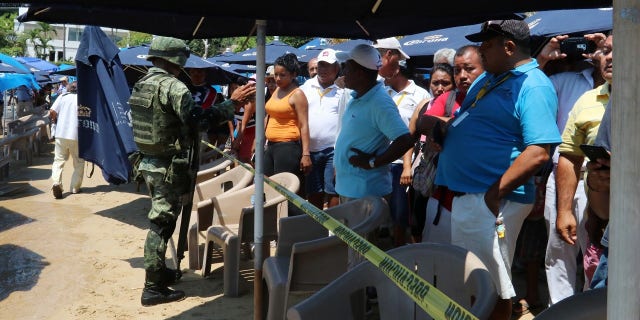 NEWYou can now listen to Fox News articles!
Horrified tourists watched as a man's body washed ashore at a popular Mexican beach resort this weekend, the latest -- and most visible -- example of the country's soaring murder rate.
The body was reported at Acapulco's Caletilla Beach around 11:30 a.m. Sunday, Guerrero government officials wrote on Facebook. Local residents and tourists were pictured on the beach as soldiers removed the body.
Officials eventually located the alleged gunman, who said he and the victim were fishermen arguing over drug sales when the deadly shooting happened, the government said.
The grim find comes as Mexico continues to battle skyrocketing murder rates due to its war on drug trafficking. The recent spike in violence is reportedly due to cartels fighting for territory, USA Today reported.
Two people were killed in late March in Acapulco after shots were fired during a car robbery, Reuters reported. Dozens of people also fled a Good Friday procession that day.
In Cancun, another popular spring break destination on Mexico's east coast, 14 people were killed and five were injured within 36 hours last week, Noticaribe reported. The deaths occurred in six separate incidents, with homicides in Cancun totaling more than 100.
Mexico is already on track to beat the record 30,000 homicides recorded last year.