Mandela memorial service interpreter admitted to psychiatric hospital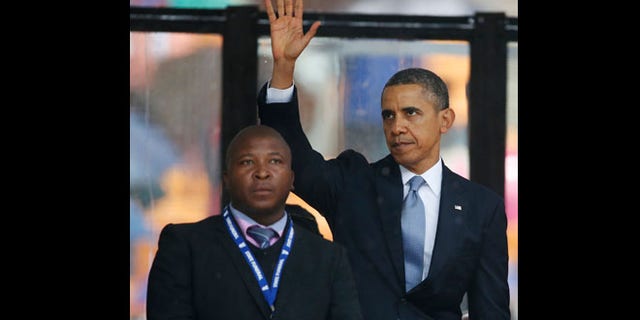 The man who sparked an international furor by offering bogus sign language interpretation at a major memorial service for late South African President Nelson Mandela has reportedly been admitted to a psychiatric hospital for treatment.
The Star newspaper reported that Thamsanqa Jantjie was admitted to the Sterkfontein Psychiatric Hospital on Tuesday after being taken for a check-up by his wife, Siziwe. The paper reported that doctors suggested that Thamsanqa be admitted immediately.
"The past few days have been hard. We have been supportive because he might have had a breakdown," Siziwe said.
Thamsanqa Jantjie gained international infamy overnight when he was accused of making false sign language interpretations of the speeches of several world leaders, including President Barack Obama, at the memorial at the FNB Stadium in Johannesburg December 10. When questioned, he told reporters that he had suffered a schizophrenic episode on his way into the stadium and claimed that he saw "angels."
The Star reported that Jantjie's checkup was originally scheduled for the day of the memorial service, but he told his wife to reschedule when he was offered the job of interpreting at the memorial service.
The Associated Press reported earlier this week that Jantjie was one of a group of people who accosted two men found with a stolen television and burned them to death by setting fire to tires placed around their necks in 2003. However, he was not tried for the killings because he was judged mentally unfit and was institutionalized for more than a year. Jantjie himself admitted being present when the men were killed as well as that he had been institutionalized.