Mandela makes final journey home in South Africa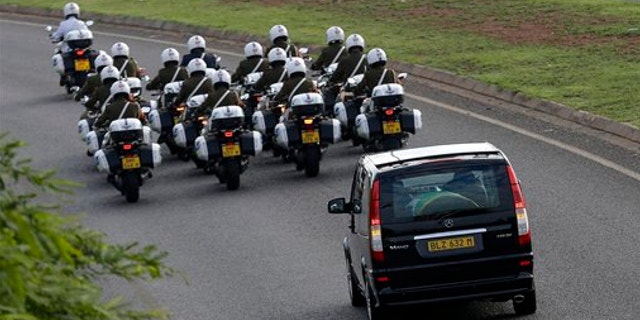 JOHANNESBURG – Taking a final journey to his home village, the remains of Nelson Mandela were honored amid pomp and ceremony Saturday at an air base in the capital before being flown aboard a military plane bound for this simple village in the wide-open spaces of eastern South Africa.
At the airport near Qunu there was a buzz of activity, with military vehicles including SUVs and armored personnel carriers driving around as anticipation built over the coming-home of South Africa's most famous figure. Residents and people who had traveled for hours thronged a road leading to Qunu, singing and dancing as Mandela T-shirts were handed out.
"We got up this morning at 2 a.m. and drove from Port Elizabeth -- it's about seven hours -- and we got here now. We're waiting on to show our last respects to Madiba," said Ebrahim Jeftha, using Mandela's clan name.
Mandela had been imprisoned for 27 years for opposing racist apartheid and emerged in 1990 to forge a new democratic South Africa by promoting forgiveness and reconciliation. He became president in 1994 after South Africa's first all-race democratic elections.
Soldiers in full gear, male and female, were stationed on foot on either side of the road from the airport in Mthatha as cows grazed nearby. Some civilians were also already lining route, shielding themselves from the sun with umbrellas.
Mandela had longed to spend his final months in his beloved rural village but instead he had spent them in a hospital in Pretoria and then in his home in Johannesburg where he had remained in critical condition, suffering from lung problems and other ailments, until his death.
There was a surprise announcement in the plans for Sunday's funeral in Mandela's home village of Qunu as retired Archbishop Desmond Tutu's family said he would not be attending because he had not received credentials as a clergyman.
"The Archbishop is not an accredited clergyperson for the event and thus will not be attending," Rev. Mpho Tutu, the archbishop's daughter, said in a statement. She is chief executive of the Desmond and Leah Tutu Foundation.
A spokesman for Tutu refused to elaborate and said Tutu himself would not be commenting. Tutu, who like Mandela was awarded the Nobel Peace Prize for resisting apartheid, has been an occasional critic of the current government.
Mac Maharaj, a spokesman for the presidency, said Tutu is on the guest list and that he hopes Tutu will attend. He said he was surprised by the statement and was looking into it for possible solutions.
"This is not an event where you need credentials and I hope a solution can be found," Maharaj said. "He's an important person and I hope ways can be found for him to be there."
Milly Viljoen, 43, drove 12 hours through the night with a friend to stand on the roadside overlooking Mandela's compound in Qunu.
`"It's befitting to see him to his final resting place," she said.
Viljoen, a student activist during apartheid, first saw Mandela when he appeared before an enthralled crowd in Cape Town after he was released in 1990. She met him later when he visited the township school where she was teaching.
"You couldn't help but love the man and be touched and hang onto his every word," she said.
At a solemn ceremony at Waterkloof air base in Pretoria that was broadcast live on South African television, a multi-faith service and a musical tribute to Mandela were held. President Jacob Zuma praised Mandela in a detailed recounting of the struggle against racist white rule. He also described Mandela coming to Johannesburg from the countryside as a young man and bringing discipline and vision to the long and difficult anti-apartheid movement.
Zuma led the group in song after his speech.
Mandela's widow Graca Machel, wearing black, wept and wiped tears from under her glasses. Mandela's former wife Winnie Madikizela-Mandela, looking stricken, was also there as well as Kenyan President Uhuru Kenyatta and former South African President Thabo Mbeki. Other members of the extended Mandela family also attended.
Mandela's favorite poem, "Invictus," was printed on the back of the program.
Mandela's casket is expected to arrive at Mthatha Saturday afternoon, greeted by a full military ceremony. Rituals will also be performed before a motorcade takes the casket from Mthatha to Qunu.
The public has been invited to view the cortege as it makes its way to Qunu. The body will be taken to the Mandela homestead, where more rituals will be performed.
A night vigil by the ANC is planned at Walter Sisulu University in Mthatha on Saturday, with party leaders and government officials honoring Mandela on the eve of his burial.
The late president died in his Johannesburg home Dec. 5 at age 95.
His body lay in state for three days this week, drawing huge crowds of South Africans who mourned his death and celebrated his successful struggle against apartheid.
Many were disappointed when they could not view his remains because long lines and traffic problems meant that thousands had to be turned away without paying their final respects.