Mandela family tries to end gravesite row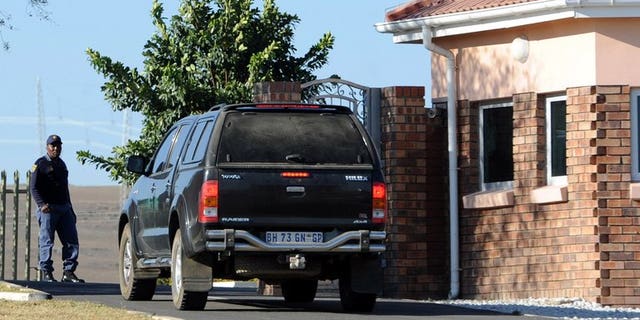 MTHATHA, South Africa (AFP) – Lawyers for Nelson Mandela's relatives met Monday to try to resolve a bitter family feud over the eventual burial site of the critically ill anti-apartheid hero.
Legal teams met all day in the southern city of Mthatha after 16 relatives last week asked a court to order the return of the remains of three of Mandela's children to his ancestral village Qunu, a family lawyer said.
His eldest grandson Mandla allegedly had the graves moved to Mvezo, about 30 kilometres (18 miles) away, without the rest of the family's consent in 2011.
Mandla is expected to file his answering papers on Tuesday and "then we will decide how to move forward," the 16 relatives' lawyer Sandla Sigadla told journalists after the talks.
Mandela, who remains critically ill in what is now his fourth week in hospital, had expressed his wish to be buried in Qunu, and his daughters want to have the children's remains transferred so they can be together.
Previously the grandson has argued that Mandela should be buried at his birthplace Mvezo, where Mandla holds court as clan chief.
On Sunday Mandla said he was regrettably "compelled to go to court" and respond to the relatives' legal challenge.
His spokesman Freddy Pilusa told AFP on Monday that Mandla "has no issues with the repatriation of any of those remains".
"But obviously it has to be done by those people who have the authority to do so," he added.
"Those things would have been decided in the family. But now they're not in the family. They're in the court."
The hastily removed remains belonged to Mandela's eldest son Thembekile who died in 1969, his nine-month-old infant Makaziwe who passed away in 1948, and Mandla's own father Magkatho who died in 2005.
The AbaThembu kingdom, to which the Mandela clan belongs, has weighed in on the dispute and called a meeting with other royal families on July 8 "to bring the necessary harmony".
Mandela's parents are buried at the family gravesite in Qunu, about 500 meters (yards) from Mandela's home, where security was stepped up on Monday according to an AFP photographer.
Mandela has three surviving children, and a host of grandchildren and great-grandchildren.