Manchester attack: UK terror threat level raised to 'critical,' another attack may be imminent
British Prime Minister Theresa May announced Tuesday that the country's terror threat level has been raised to its highest level based on evidence gathered during the investigation of the deadly attack at a Manchester Ariana Grande concert, signifying that another attack may be imminent.
"The threat level should be increased, for the time being, from severe to critical," May said, adding the assessment is "a further attack may be imminent."
Raising the country's threat level means that armed military personnel will replace police officers at some public events, such as sports matches, according to May.
"It is a possibility we cannot ignore, that there is a wider group of individuals linked to this attack," she added.
UK TERROR THREAT LEVELS: WHAT DO THEY MEAN?
Based on intelligence provided by the British, a U.S. government official told Fox News the evidence points to a suspect who was "coached or trained on line or in person" to carry out the attack.
The official described the bomb placement to Fox News as "perfect" to maximize casualties, which required planning.
Earlier on Tuesday, British authorities identified the suicide bomber who launched a deadly attack at the concert, hours after the Islamic State terror group claimed responsibility for the blast.
TRACING THE MANCHESTER BOMBER: WAS HE PART OF A NETWORK?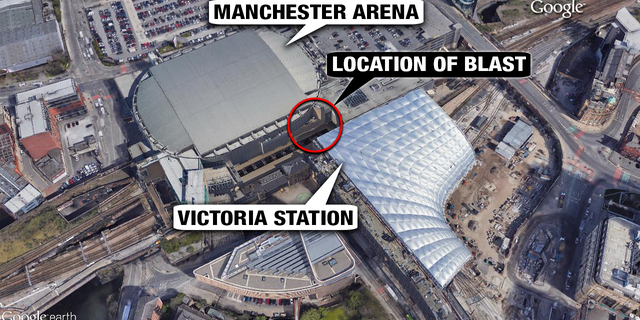 Salman Abedi, 22, was identified as the man who detonated an improvised explosive device at about 10:30 p.m. local time Monday, killing more than 20 people, some of them children, and injuring dozens more, Manchester police confirmed in a news conference on Tuesday. At least 12 children under the age of 16 were injured, emergency responders said. An 8-year-old girl was among the dead.
May said Abadi was born and raised in Britain.
MANCHESTER TERROR ATTACK SUSPECT IDENTIFIED AS SALMAN ABEDI
It was previously reported that Abedi was 23, but police clarified that another 23-year-old man was arrested. Two warrants have been issued at two separate residences. Officers used a police-controlled explosive device to gain entry into one home.
ISIS claimed on Tuesday that "a soldier of the caliphate planted bombs in the middle of Crusaders gatherings" then detonated them, but Director of National Intelligence Dan Coats said that the U.S. had not yet verified that the terror group was responsible.
TRUMP CALLS ON ALLIES TO 'OBLITERATE THIS EVIL IDEOLOGY' AFTER MANCHESTER BOMBING
The explosion unfolded outside Manchester Arena as Grande's concert was coming to a close. The pop star, who wasn't injured, reportedly suspended her Dangerous Woman Tour following the attack. She wrote on Twitter, "broken. from the bottom of my heart, I am so so sorry. I don't have words."
Officials believe the device was packed with shrapnel, built to inflict as much human damage as possible, according to U.S. law enforcement sources. Manchester police said one of their priorities is to investigate whether the attacker acted alone or had some kind of support.
Around the United Kingdom and across Europe, the attack brought fear and mourning. At Buckingham Palace, Queen Elizabeth II marked a moment of silence along her husband Prince Philip as well as Prince Charles and his wife Camilla. In Rome, the lights of the Colosseum and Trevi Fountain were darkened.
While on a visit to the West Bank city of Bethlehem, President Donald Trump called the perpetrators "evil losers" and said "this wicked ideology must be obliterated."
Manchester, located 160 miles northwest of London, is one of Britain's largest cities. The attack was the deadliest in Britain since four suicide bombers killed 52 London commuters on subway trains and a bus in 2005.
The claim of responsibility by ISIS echoed others the group has made for attacks in the West but with vague details that left open the possibility it was an opportunistic attempt at propaganda.
Manchester itself has seen terror before, but not this deadly. The city was hit by a huge Irish Republican Army bomb in 1996 that leveled a swath of the city center. More than 200 people were injured, although no one was killed.
The bombing also elicited painful memories of the 2015 terror attacks in Paris, where most of the 130 killed were at the Bataclan concert hall.
Fox News' Catherine Herridge, Jake Gibson and the Associated Press contributed to this report.