Man Suspected in Tourist Deaths Arrested in Mexico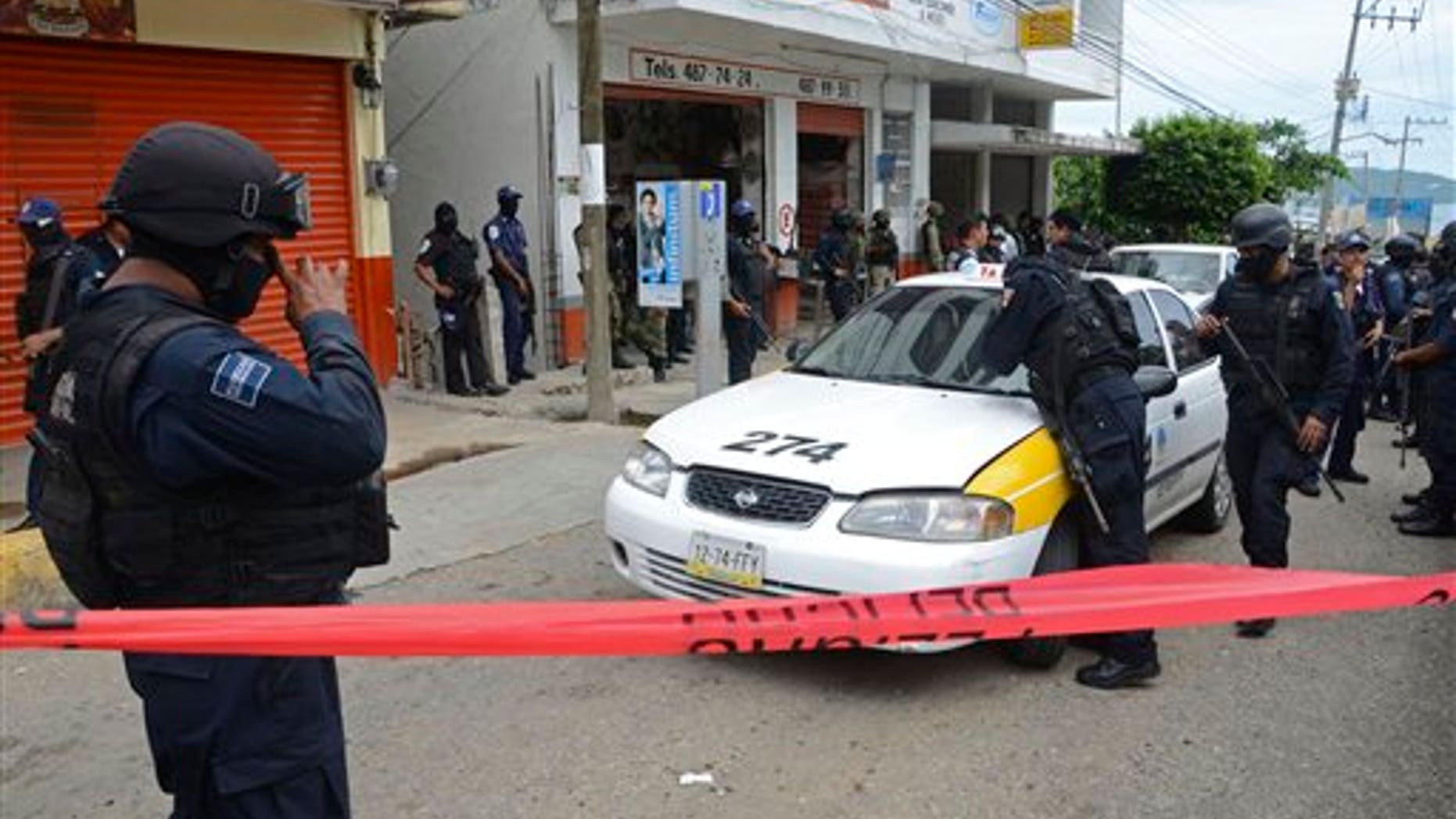 MEXICO CITY – An alleged drug trafficker suspected of helping abduct and kill 20 Mexican tourists has been arrested in the resort city of Acapulco, federal police said Tuesday.
Moises Montero Alvarez, nicknamed "The Korean," was captured Monday along with a 21-year-old and two teenagers believed to be accomplices. Alvarez is suspected of being a leader in the local Independent Cartel of Acapulco.
Alvarez, 42, is accused of helping to carry out the Sept. 30 kidnapping of 20 vacationing men from Michoacan state. Some of the men's decomposed bodies were later found in a mass grave.
Authorities believe the tourists had been mistaken by drug traffickers for members of the rival La Familia cartel.
Alvarez is also suspected of ordering the killings of rival cartel members at in the port of Acapulco, the kidnapping of police officers and the April 7 burning of a supermarket that left at least one man dead. He was previously arrested in 1999 on extortion charges, police said.
Federal police have reported more than a dozen killings have been reported in the area in the last two days. In one case, a 35-year-old man's torso and right arm were found on a busy street near the 23-story beachfront Grand Hotel Acapulco. In another, a taxi was found with the bodies of three men in their 20s killed with assault rifles.
At least five women in their 30s and 50s were also reported killed in that period, several in outlying areas of the surrounding state of Guerrero. The women were shot and several were found bound with ropes and tape. It is not known if the murders are linked.
Also Tuesday, federal prosecutors said a Mexican judge ordered suspected drug capo Edgar Valdez Villareal to stand trial on organized crime charges.
Valdez Villareal, known as "La Barbie," was captured last August at a ranch outside Mexico City after a yearlong pursuit.
The Attorney General's Office said in a statement that Valdez also faces kidnapping and illegal weapon possession charges.
The Texas-born Valdez Villareal allegedly led one of two factions that began fighting for control of the Beltran Leyva drug cartel after the leader's death in December 2009.
In a separate announcement, the office said a judge ordered alleged Juarez drug cartel chieftain Jose Antonio Acosta Hernandez held for 40 days.
Acosta, a former police officer who allegedly admits ordering 1,500 killings during a campaign of terror as a drug gang chieftain along the U.S. border, was detained Friday in the northern city of Chihuahua.
The Attorney General's Office said it will use the extra 40 days to strengthen its case against Acosta.
Meanwhile, three more pollsters were reported missing in Michaocan, bringing the total number of missing poll takers in the violence-wracked state to nine. The Parametria firm said Tuesday that it had lost contact with the workers.
Authorities were still looking for six pollsters from the polling firm of Consulta Mitofsky who disappeared in Michoacan. Federal security spokesman Alejandro Poire said Tuesday that national authorities had offered to assist state officials and the firm in investigating the case.