Man shouting 'Allahu akbar' stabs police dog to death, cops say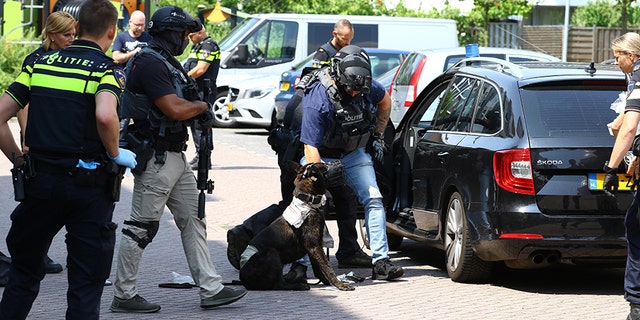 NEWYou can now listen to Fox News articles!
A Syrian man was shot in the Netherlands on Wednesday after he allegedly shouted "Allahu akbar" from a balcony and killed a K-9 officer.
Police tried to calm the man, who was in Schiedam, near the port city of Rotterdam, but were unsuccessful. Law enforcement agents entered the apartment and the 26-year-old man attacked them, police said.
The man also stabbed the police dog, which later died of its injuries.
MAINE FIREFIGHTER GETS 'THANK YOU' KISSES FROM DOG HE RESCUED FROM ROOF
Schiedam Mayor Co Lamers didn't identify the man, but said he was a Syrian who had been living with his father in the city since last year.
"The man was known to several help organizations but this was an escalation we had not seen coming," Lamers said.
The man, according to Dutch media outlet Nederlandse Omroep Stichting, underwent surgery and is now in stable condition.
The Associated Press contributed to this report.