Man arrested in California shooting also a suspect in Oregon murder, police say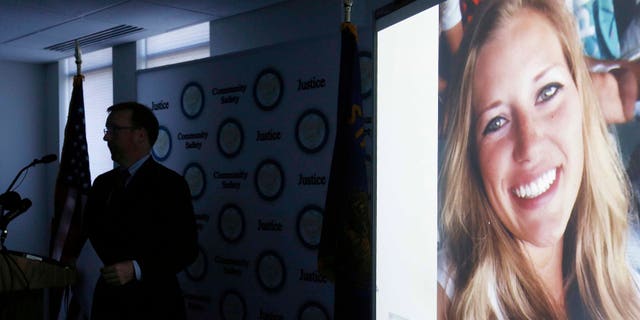 Edwin Lara, currently held in the Tahama County Jail in California for allegedly shooting a man and stealing a car with a woman and her two sons inside, is also a suspect in the murder of Kaylee Sawyer over the weekend in the picturesque of Bend, Oregon, police say.
A body that resembles the 23-year-old Sawyer was found Tuesday but has not yet been positively identified.
Police believe Sawyer encountered Edwin Lara, a 31-year-old with an associate degree in criminal justice who was working as a security guard at a community college.
Lara's wife, Isabel Ponce-Lara, went to police in their hometown of Redmond, Oregon, on Monday, crying uncontrollably and saying Lara had told her that he hit Sawyer with his patrol vehicle, killing her, then panicked and hid her body, according to documents filed in court.
After tearfully telling his story to her, Lara drove off, said his wife, a new Bend police officer who was worried that he was suicidal.
The next day Lara was being held in California accused of shooting a man at a motel before stealing a car and forcing one of the sons to drive at gunpoint. He let the family members go along Interstate 5.
The gunshot victim at the Super 8 was last listed in critical condition on Tuesday.
Police went to their home and found Sawyer's blood-soaked purse, bloody women's and men's clothing and other belongings in a shed, according to 62 pages of affidavits filed with the Deschutes County Circuit Court in Bend.
The officers said evidence showed Lara had committed crimes of vehicular homicide, assault and hit-and-run.
Deschutes County District Attorney John Hummel isn't buying the story about Lara having accidentally run over Sawyer.
Lara "did unlawfully and intentionally cause the death of Kaylee Anne Sawyer," the murder charge filed against him Tuesday reads.
Circuit Court Judge Alta Brady has prohibited all parties in the case, including attorneys and the district attorney's office, from publicly commenting on it.
Hummel told The Associated Press in an email that consequently he could not say what evidence led his office to charge Lara with murder instead of vehicular homicide.
But he added: "I can tell you that I would not file charges alleging a person intentionally killed a person if I did not have evidence to support the assertion."
Hundreds of people attended a candlelight vigil for Sawyer in a Bend park on Tuesday evening. TV news reports showed mourners remembering her as a caring person with a radiant smile.
Based on reporting by the Associated Press.
Like us on Facebook
Follow us on Twitter & Instagram