Man accused of dismembering stripper representing himself at trial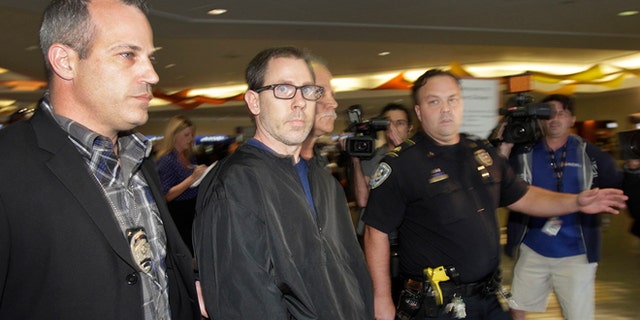 NEWYou can now listen to Fox News articles!
GRETNA, La. (AP) – A man accused of killing and dismembering a French Quarter stripper was set to make opening statements for himself, then cross-examine prosecution witnesses as testimony begins Tuesday in his trial in a New Orleans suburb.
Terry Speaks, 42, questioned and helped choose potential jurors Monday, after Judge Stephen Grefer agreed that he could act as his own attorney.
"You understand that ... I do not think this is a good idea," the Jefferson Parish judge told Speaks, who is charged with second-degree murder of Jaren Lockhart, 22, with obstructing justice by cutting up her body and dumping it into the Gulf of Mexico, and with conspiring to do so with former girlfriend Margaret Sanchez.
Both Speaks and Sanchez have pleaded not guilty. Sanchez's trial has not been scheduled.
"I want to thank you for being here, taking time out of your life," Speaks told the first group of jurors he questioned. "I know a lot of you would like to be doing other things — me, too."
He and prosecutors Douglas Freese and Tommy Block chose nine women and five men Monday. Two of the men are alternate jurors.
Earlier Monday, Judge Grefer agreed to let Speaks represent himself after making sure Speaks realized that doing so is generally unwise and can be damaging — and that he would get no extra time for research or other special treatment.
Grefer rejected Speaks' contention that public defender John Benz and a second appointed lawyer were doing a poor job but granted Speaks' motion to defend himself. He appointed the two attorneys as Speaks' assistants so they could counsel him and resume his defense if he changes his mind.
Conviction on the second-degree murder charge would mean a mandatory life sentence. Before agreeing to let Speaks defend himself, Grefer noted he could get life as a multiple offender if he is convicted of obstructing justice.
Speaks' other convictions include a guilty plea for failing to register in Louisiana as a sex offender.
Lockhart's torso washed ashore on a beach in Bay St. Louis, Mississippi, days after her boyfriend reported her missing. She had been stabbed in the heart. Tattoos and body piercings helped identify her. Other body parts and clothing washed ashore in Pass Christian and Long Beach, Mississippi.
Surveillance video showed Speaks and Sanchez leaving Temptations Gentlemens Club with Lockhart on June 6, 2012, the night before she was reported missing.
Like us on Facebook
Follow us on Twitter & Instagram