London attack: Moroccan-born Italian killer was radicalized off Internet, mom says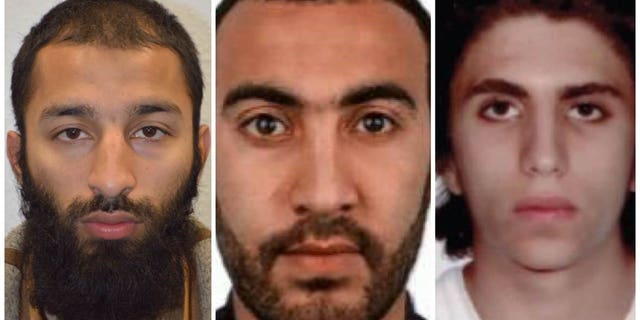 NEWYou can now listen to Fox News articles!
The third London Bridge attacker was identified Tuesday as a 22-year-old, Moroccan-born Italian who had been previously stopped by security forces who suspected he was bound for Syria and reportedly notified U.K. authorities, according to British police and Italian media.
Youssef Zaghba was the last member identified of the trio of jihadis who killed seven people on Saturday night during a van and knife attack in London. All three were shot dead by police minutes after the deadly terror assault began.
Zaghba's mother, Valeria Collina, who reportedly converted to Islam and lives near Bologna, claimed she tried and failed to keep her son from radical friends. "He had the Internet, and from there he got everything," she told Italian newsmagazine L'Espresso.
Italian intelligence operatives notified British and Moroccan authorities after Italian cops stopped Zaghba in March 2016 at Bologna Airport bound for Istanbul, Italian security officials told Politico Europe. That he was headed for Turkey could indicate Zaghba intended to travel across that country's border to Syria and into ISIS-controlled territory, and Italian officials suspected as much, according to Il Corriere della Sera.
The Islamic State terror network took responsibility for the weekend attack, the third major incident to hit Britain in recent months. Italian officials seized Zaghba's cellphone and discovered some jihadi content and identified as a likely foreign fighter, Il Corriere della Sera reported, however, he was eventually released -- even after he told authorities he was traveling so he could become a terrorist.
But in a Tuesday news release, British police said Zaghba "was not a police or MI5 subject of interest."
Bologna prosecutor Giuseppe Amato said Zaghba was tracked every subsequent time he was in Italy following the March 2016 encounter, however, "there weren't elements of proof that he was a terrorist," so no arrest occurred.
Zaghba, along with previously identified attackers Khuram Shazad Butt and Rachid Redouane, lived in east London.
Zaghba was the youngest of the three attackers. Butt was a 27-year-old of Pakistani descent with well-known jihadist tendencies and Redouane was 30 and claimed to be Moroccan and Libyan.
The Associated Press contributed to this report.