Liverpool's Suarez returns to training: reports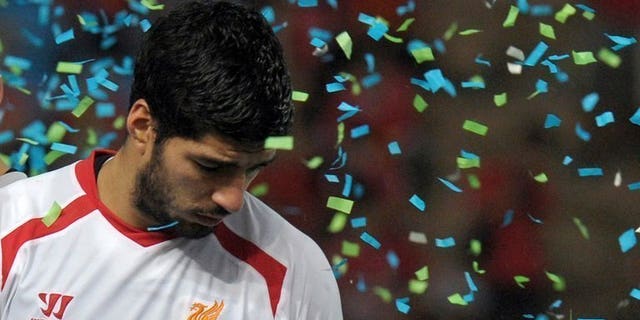 LONDON (AFP) – Controversial Liverpool striker Luis Suarez has returned to first-team training, British media reported Friday.
Liverpool manager Brendan Rodgers had said the only way the Uruguay forward would be back training alongside his team-mates was if he first apologised for suggesting the Reds boss had gone back on a deal allowing him to leave for a Champions League club.
However there has, as yet, been no public confirmation from Liverpool as to whether Suarez has apologised.
Last week Suarez was told to train by himself after Rodgers said his attitude had been well below the standard expected by the Merseyside club.
Premier League rivals Arsenal have had had two bids, including a reported offer of ??40 million for Suarez, rejected by Liverpool.
Rodgers, speaking after last week's friendly defeat by Celtic, said Suarez would have to say 'sorry' before being welcomed back into the Anfield fold.
"Initially there will be a recognition that (there needs to be) an apology to his team-mates and the club," he said.
"When he is back from his international trip (Suarez went to Japan with Uruguay in midweek) we will assess it from there.
"He is a world-class striker and when he is committed to the cause we will welcome him back with open arms."
Liverpool's principal owner John W Henry has declared Suarez will not be allowed to leave the club, while captain Steven Gerrard has urged him to stay.
Suarez will miss the first six games of the new season as he completes a 10-game suspension for biting Chelsea's Branislav Ivanovic in April, and Rodgers said Thursday he did not want to discuss the 26-year-old forward until he returns at the end of September.
"From our perspective, there is a standpoint from the club and myself that has not changed," said Rodgers.
"What I want to concentrate on is the players that are available for this weekend so I won't be speaking any more about Luis Suarez until he is available.
"Purely out of respect to them and the work which has been going on, I only want to talk about them."
Liverpool open their 2013-14 Premier League campaign at home to Stoke City on Saturday.