Libya's lawmakers to meet in secret amid standoff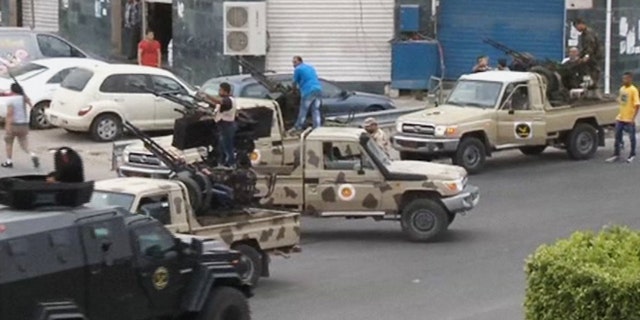 TRIPOLI, Libya – Libya's Islamist-led parliament is pushing ahead with holding a vote of confidence Tuesday to approve a disputed new prime minister in a session held in undisclosed location Tuesday, defying demands by a renegade general that the legislature disband.
The vote could escalate one of Libya's worst crises since the ouster and death of dictator Miammar Qaddafi in 2011. Powerful militias allied to the general, Khalifa Hifter, stormed parliament earlier this week and unilaterally declared it suspended, part of a campaign that Hifter says is aimed at breaking the power of Islamic extremists in the country.
Parliament ignored his suspension declaration, but lawmakers will meet in a secret location for Tuesday's vote for fear of a repeat attack, one lawmaker said, speaking on condition of anonymity because he was not authorized to talk about the arrangements. The state news agency LANA reported that parliament would meet, but did not say where.
The standoff between Hifter and Islamist factions and militias allied to parliament is threatening to spiral into a battle for power, as militias rally to each side. Hifer's allied militias are positioned along the road to Tripoli's airport, south of the capital, while Islamist-led militias from Libya's third-largest city, Misrata, have mobilized and are positioned to move into the capital after a call by the parliament's head.
Hifter has said he is waging a war against terrorism and accuses Islamist politicians who dominate parliament of allowing extremists a free hand in the country. On Friday, Hifter's forces attacked camps of Islamic militias in the eastern city of Benghazi. His opponents accuse him of seeking to grab power for himself.
In Benghazi, the Al Qaeda-inspired militant group Ansar al-Shariah vowed in a statement to battle Hifter's forces, denouncing them as "advocates of sedition and corruption that we must confront and expel" because they are waging war against Islamic law.
"The choice of confrontation has become inevitable," it said.
The parliament session Tuesday is to give a vote of confidence in a new Cabinet under Ahmed Maiteg, an Islamist politician that lawmakers chose as the new prime minister in an earlier vote, the lawmaker and LANA reported. Parliament earlier this year voted to remove Western-backed prime minister Ali Zidan.
Opposition lawmaker rejected the vote choosing Maiteg for the post as illegal, saying it was improperly held. Opponents also demand the dissolution of parliament because its mandate ran out earlier this year. In a bid to resolve the current crisis, the interim government proposed that parliament find a new figure — but it appears lawmakers had rejected the proposal.