Letter to the emperor causes trouble for Japanese lawmaker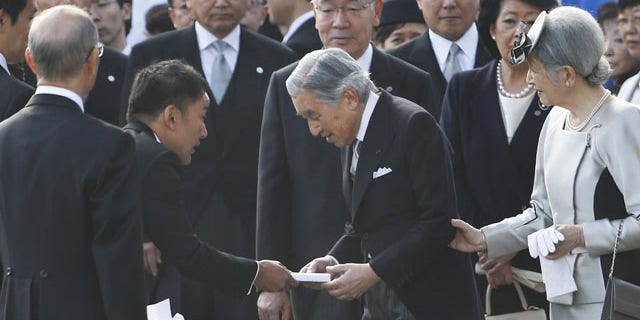 TOKYO – A novice Japanese lawmaker who wanted to draw attention to the Fukushima nuclear crisis has caused an uproar by doing something taboo: handing a letter to the emperor.
The ruckus began at an annual autumn Imperial Palace garden party last week. As Emperor Akihito and his wife, Michiko, greeted a line of guests, outspoken actor-turned-lawmaker Taro Yamamoto gave the emperor the letter -- a gesture considered both impolite and inappropriate.
Video of the encounter, repeatedly aired on television, shows the 79-year-old emperor calmly taking the letter, written on a folded "washi" paper with ink and brush, and briefly talking with Yamamoto. An apparently wary Empress Michiko gently pulled her husband's elbow from behind. The chief steward, who was standing next to Akihito, grabbed the letter the instant the emperor turned to him.
Yamamoto's action drew criticism from both ends of the ideological spectrum and left many Japanese baffled by what they consider to be a major breach of protocol: reaching out to the emperor in an unscripted act.
The controversy shows how the role of Japan's emperor remains a sensitive issue, nearly 70 years after Akihito's father, Emperor Hirohito, renounced his divinity following Japan's defeat in World War II and became a symbol of the state.
Many conservatives still consider the emperor and his family divine ("the people above the clouds") and believe a commoner shouldn't even talk to him. Decades ago, commoners were not even allowed to directly look at the emperor, but today Akihito does meet with ordinary people, including those in disaster-hit areas in northern Japan.
There is no specific law, but people are not supposed to talk freely to the emperor, touch him or hand him something without permission. Taking a cellphone picture of the emperor or his family also is considered impolite.
An upper house committee is discussing whether to discipline Yamamoto and a decision is expected this week. The 38-year-old lawmaker, who was elected in July as an independent, has apologized for troubling the emperor but rejected calls to step down. He could be reprimanded by the house president, who also could bar him from palace events.
Yamamoto, an anti-nuclear activist, said he wanted to make an appeal to the emperor about the crisis in Fukushima and its possible health impact on residents and workers cleaning up the power plant, which suffered three meltdowns after it was devastated by the 2011 earthquake and tsunami.
Neither Yamamoto nor the palace has released the letter's contents. If Yamamoto sought the emperor's assistance, he may have violated a law requiring Cabinet approval for such requests.
Yamamoto denied any intention to use the emperor for political purposes -- a possible infringement of the postwar Constitution, which relegates the emperor to a non-political, ceremonial role.
"My behavior was indiscreet for a place like the garden party," Yamamoto said at a news conference Tuesday. "I just wanted the emperor to know the reality. I was frustrated by not being able to achieve any of my campaign promises yet."
Liberals criticize Yamamoto for turning to the emperor for help rather than upholding democratic principles as an elected lawmaker. Some worry that Yamamoto's ploy reinforced the idea that the emperor is Japan's most trusted public figure, and fear that could play into conservative efforts to give the emperor more powers.
Others criticize Yamamoto as an amateur and populist politician who has set back the anti-nuclear movement, said Koichi Nakano, a political scientist at Sophia University in Tokyo.
The emperor speaks publicly only at formal ceremonies and rare news conferences. The Imperial Household Agency vice chief said Tuesday that Yamamoto's action was "inappropriate," and that the incident could affect operation of future palace public events. He said the agency has the letter, and Akihito hasn't read it.
Yamamoto's anti-nuclear stance makes him a target for conservatives in the ruling Liberal Democratic Party, which is pushing for a return to nuclear power. Education Minister Hakubun Shimomura called for Yamamoto's resignation.
A few people, including commentators and Yamamoto's sympathizers, liken him to Shozo Tanaka, a lawmaker seen as a hero for his 1901 appeal to Emperor Meiji, Akihito's great-grandfather, over copper mine pollution. Tanaka quit as lawmaker and divorced his wife beforehand to keep her out of trouble. He was detained but quickly freed.
Nakano said Yamamoto has at least drawn some public attention to the potential health risks faced by children from the Fukushima area and plant workers.
"After all, he might have achieved part of his goals," Nakano said.