Left-wing candidate starts campaign to replace Ford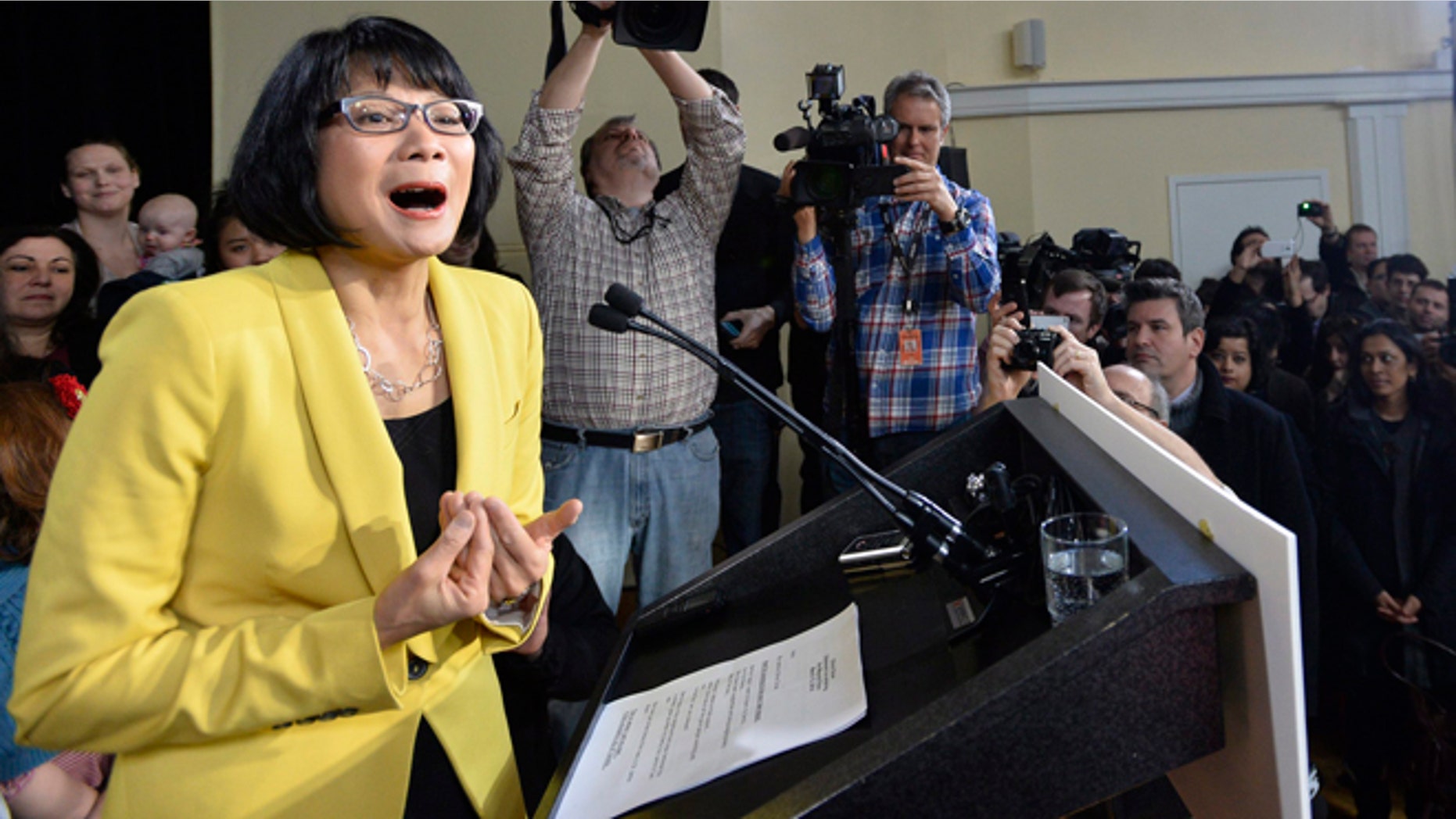 TORONTO – A left-leaning politician popular in liberal downtown Toronto kicked off her campaign to replace Rob Ford on Thursday, setting up a showdown with the conservative mayor who vows he will win despite the drug scandal engulfing him.
Olivia Chow, who resigned from her Parliament seat earlier this week ahead of her campaign launch, made no mention during her speech of the incidents of drug use, drunken public appearances and erratic behavior that have given Ford international notoriety. But she said the mayor has disappointed his city.
"The current mayor is failing at his job, and he is no role model for my granddaughters," Chow said at a packed church hall. "We deserve better. It's time for a change."
A Hong Kong native who immigrated to Canada when she was 13, Chow is the widow of Jack Layton, the leader of the leftist New Democrat party who died of cancer in 2011. She is the only prominent left-leaning candidate in a crowded field of right-of center contenders in the Oct. 27 election.
Ford has rebuffed pressure to resign since admitting to smoking crack cocaine last year. The Toronto City Council stripped him of most of his powers in an effort to isolate him but it lacked the authority to force him out.
Ford has said he is not concerned about the challenge from Chow, whose candidacy was widely expected. He insists he remains highly popular in Toronto's working-class conservative suburbs, which carried him to victory in 2010, galvanized by his promise to shake things up at a City Hall he said was dominated by free-spending liberal elites.
Chow, 56, and her late husband formed a political power couple for decades. The NDP, a union-backed party with socialist roots, took Canadians by surprise in the May 2011 federal election by winning official opposition status for the first time, sidelining the long-dominant Liberal Party. Many credited Layton's charisma and popularity. He died a few months later.
Chow, a former Toronto city councilor who has spent 26 years in politics, emphasized her immigrant roots during her speech, dismissing attacks from the Ford camp that she will spend recklessly if elected mayor.
Promising to keep Toronto's budget balanced, as required by law, Chow said her humble upbringing taught her about the value of money and working hard. She said her mother worked as maid and her father struggled to find work in his new country. But she said she was served well by Toronto's public schools, hospitals, libraries and public transit.
Ford has said Chow is even more left leaning than his predecessor, David Miller, who critics said over spent on programs favored by downtowners -- arts and culture projects and expanded bike lanes.
Ford's promises to slash spending, cut taxes and end what he called "the war on the car" gained him a loyal following in the suburbs that came to be known as "Ford Nation."
The competing interests of the suburbs and the core of Toronto have their roots in a 1998 amalgamation forced on the metropolitan area by the Conservative provincial government. Toronto, with a population of about 700,000, was merged against its will with five of its neighboring municipalities, creating a mega-city that now has 2.7 million residents.
An electoral map of the 2010 mayoral election shows that Ford's voter base resides mainly in those former suburbs. Overall, it's a more conservative constituency than the downtown electorate, encompassing many immigrants and abounding with commuters who rely on their cars rather than Toronto's less-than-comprehensive public transit system.
Nelson Wiseman, a political science professor at the University of Toronto, said Ford cannot be dismissed as a contender. But he said the drug scandal -- a major issue even in Ford's home suburb of Etobicoke -- will wear on him during the campaign. The mayor also faces a strong challenge from John Tory, a one-time Ontario provincial Progressive Conservative leader.
Wiseman said Chow's biggest challenge is winning support in the suburbs.
"Three quarters of the votes are not in the old city of Toronto," Wiseman said.  "It's impossible to win, no matter how strong you are in the old city of Toronto, unless you score significantly in some of the suburbs."
As downtown city councilors in the 1990s, Chow and Layton worked on behalf of the poor and homeless. Layton ran for mayor in Toronto and lost in 1991 after being criticized for living in subsidized housing and for opposing the city's ultimately failed bid for the 1996 Summer Olympics. He and his wife eventually entered federal politics together.