Leaders meet in Italy to find settlement in Libya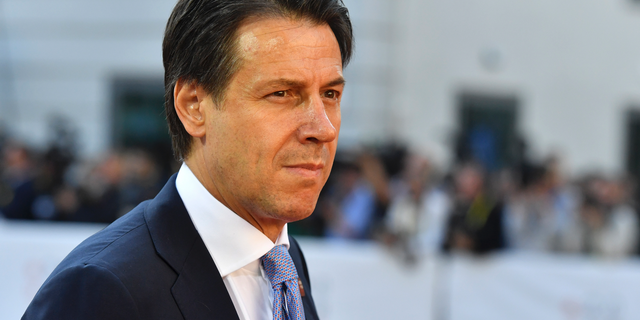 ROME – A gathering of leaders of Libya's quarrelling factions and of countries keen on stabilizing the North African nation opens Monday in Sicily, aimed at finding a political settlement that would bolster the fight against Islamic militants and stop illegal migrants crossing the Mediterranean to Europe's southern shores.
But the meeting's chances of success appear uncertain, not least because of the difficulties involved in any attempt to get all stakeholders — two rival administrations, unruly militias with considerable firepower and an ambitious army general — to agree on a road map that would reunite Libya after seven years of chaos and bloodshed while not infringing on their current spheres of power.
Gen. Khalifa Hifter, commander of the self-styled Libyan National Army, is unlikely to go to the Palermo event, according to officials close to him. The Egyptian- and UAE-backed Hifter, who also maintains close ties with France, views the meeting as lacking a "clear agenda" and designed largely as a media event favoring Italy, the host, according to the officials who spoke on condition of anonymity because they were not authorized to brief the media.
Hifter's absence would render the meeting largely irrelevant.
Dealing a further blow to the meeting's chances of success, some European heads of state that Italy had hoped would come — including U.S. President Donald Trump and Russia's Vladimir Putin — are also staying away, sending lower-ranking State Department or Foreign Ministry officials instead.
France's foreign minister is expected, and Italian Premier Giuseppe Conte will be greeting arrivals Monday evening, ahead of the first event, a closed-door dinner.
Italy has for years nervously eyed a lawless Libya across the Mediterranean. Like other European nations, Rome wants to contain the threat of militants based there carrying out terror attacks on its territory and the danger of a continuous flow of migrants arriving by sea.
With hopes already effectively dashed that this week's meeting would gather all the delegations from Libya's main factions in one room, Italian daily La Stampa on Saturday noted that the possibility of another conference, in Rome in a few weeks, was being mulled over. A series of bilateral encounters are foreseen in Palermo.
Conte's six-month-old populist government — and especially anti-migrant Interior Minister Matteo Salvini — sees a more stable and secure Libya as the best outcome for Italians, and for the right-wing voter base in particular.
"The Italian government offers itself as a mediator. It ... doesn't demand anything, doesn't set election dates, doesn't want to impose its businesses" on Libya, Salvini said Sunday of the meeting, which runs through Tuesday.
Salvini said Italy's approach is superior to that of France because it focuses on improving political and security conditions on the ground to ensure a future vote is democratic.
France hosted a meeting on Libya in May, when rival Libyan leaders tentatively agreed on a roadmap for parliamentary and presidential elections but declined to sign a declaration outlining their commitments.
Italy has traditionally had strong business ties in Libya, especially through its oil-and-gas giant ENI, as well as various engineering and construction companies.
Libya plunged into chaos after the 2011 uprising that ousted and killed longtime dictator Moammar Gadhafi, and is now governed by rival administrations in the east and west with both relying on the support of militias. It has also become a haven for Islamic militants and armed groups, including several from neighboring countries, which survive on looting and human trafficking, particularly in the south of the country.
Hifter has been instrumental in the fight against militants, going after them in their eastern hideouts and occasionally foraying into the vast and largely lawless south. However, a deadly overnight attack last month by militants from the extremist Islamic State group showed the limitations of his army, which he and his Egyptian backers will likely use to support their tireless calls to lift an international arms embargo on Libya.
Hifter is not the only person in Libya questioning Italy's motive behind organizing the conference.
"This is Italy's way of competing for a prime role in Libya's affairs, especially against France and other western powers," said Essam al-Jehani, a lawmaker from the parliament based in Tobruk, eastern Libya. "This will lead to further meddling in our affairs, and we expect nothing positive from this meeting."
Ghassan Salame, the U.N. special envoy to Libya, told the U.N. Security Council last week that the conflict there is essentially a competition over control of resources fueled by personal ambitions. National elections, he said, are unwanted by Libyan factions.
"Libya is caught in a futile and destructive cycle, fueled by personal ambitions and the nation's stolen wealth," said the veteran Lebanese politician. "While it is a country endowed with great means in human and material terms it is fast becoming the tragedy of the lost opportunity. The risks are too high to allow this to continue."
As an example of Libya's "underlying fragility," he said a bout of fighting in the capital Tripoli last month claimed 120 lives, including 34 women and children.
This week's conference is a chance for countries to "offer tangible support to the training of professional security forces," Salame said.
____
Musa reported from Benghazi, Libya.