Leader of Al Qaeda calls on Muslims to help Syrian rebels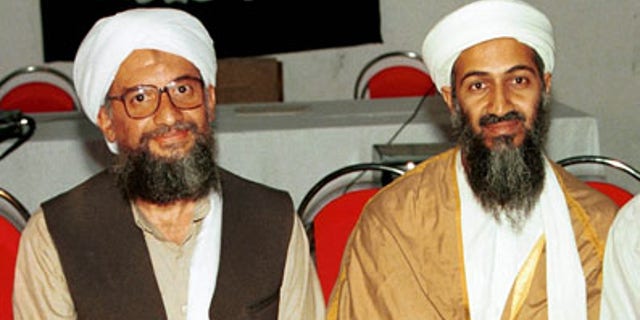 BAGHDAD – The head of Al Qaeda is calling on Muslims across the Arab world and beyond to support rebels in Syria who are seeking to overthrow President Bashar Assad, and says they cannot depend on the West for help.
In a new videotaped statement, Ayman al-Zawahri calls on Muslims in Iraq, Jordan, Lebanon and Turkey to join the uprising against Assad's "pernicious, cancerous regime."
In the video titled "Onwards, Lions of Syria," Zawahiri criticized the Syrian regime for crimes against its citizens, and praised those rising up against the government.
The 8-minute video was posted on extremist websites late Saturday. A copy of the video was provided Sunday by the SITE Intel Group, a U.S.-based organization that monitors militant messages.
A senior Iraqi intelligence official says Al Qaeda-linked fighters already are flowing from Iraq to Syria.
The official spoke on condition of anonymity because he's not authorized to brief the media.
Since March last year, Syrian President Bashar al Assad's government has carried out a bloody crackdown on an uprising in which more than 6,000 people have been killed.
Arab League foreign ministers will meet on Sunday in Cairo to discuss their next move over the crisis.
Long Al Qaeda's number two, Zawahiri took over the helm of the group after Usama bin Laden was killed in May 2011 during a U.S. special forces night raid deep in Pakistan.
The video is the latest of a number in which the militant chief has attempted to seize on the "Arab Spring" revolutions.
Al Qaeda has been absent from the popular protests that swept the Arab world last year, leading to the fall of leaders in Egypt, Libya and Tunisia and provoking major unrest elsewhere.
Analysts argue that the phenomenon has left the global terror outfit weakened and increasingly irrelevant.
The United States said last year that it believed Zawahiri, who has been in hiding since the United States declared a "war on terror" after the September 11, 2001 attacks, was still in Pakistan.
Newscore contributed to this report.