Lawyer: Arrested Bangladesh garment factory owners played no role in fire that killed 112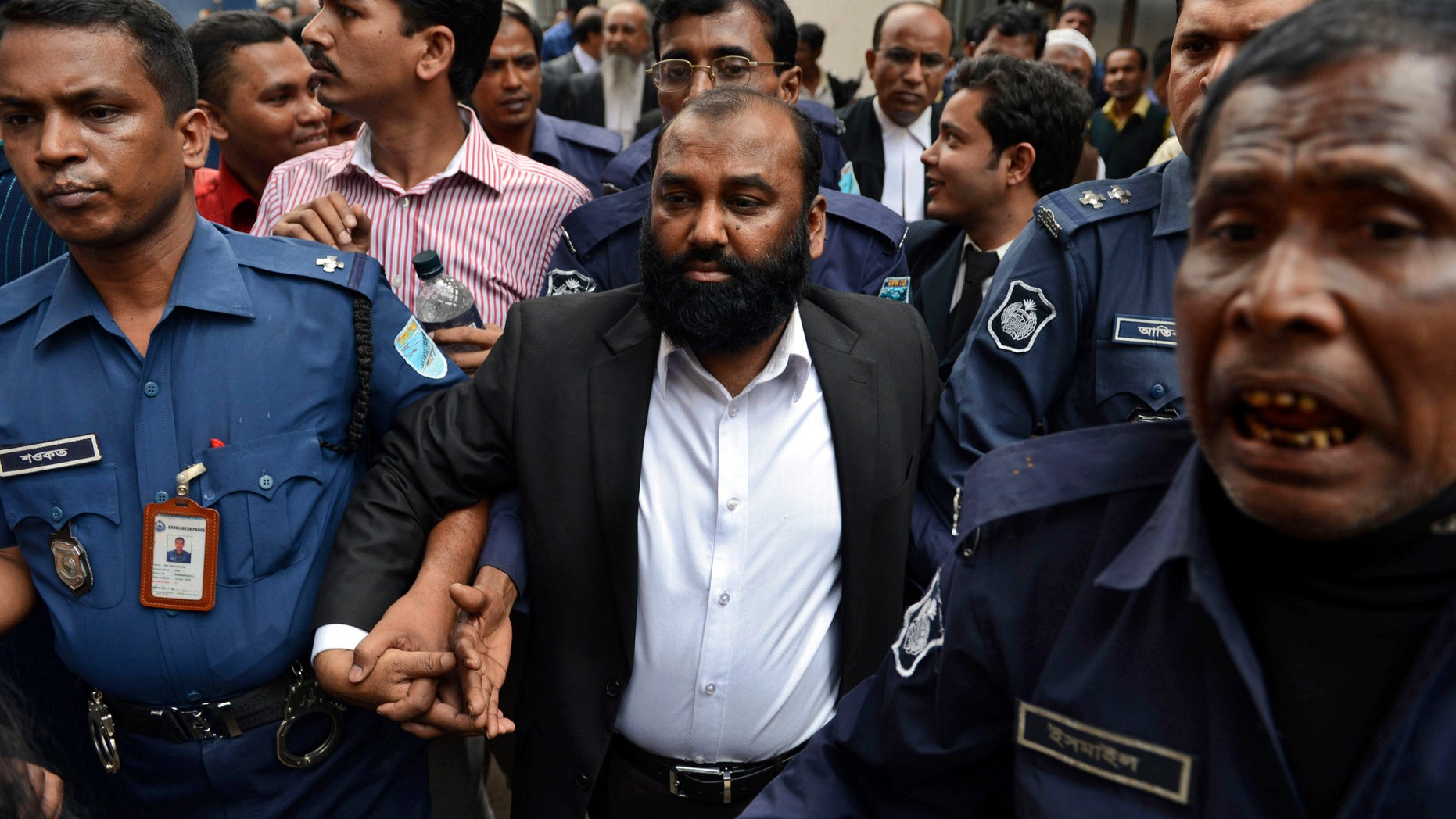 DHAKA, Bangladesh – The attorney for a garment-factory owner charged with culpable homicide over a 2012 fire that killed 112 workers said Monday that his client shouldn't be held liable for the disaster and that other workers could end up losing their jobs if he is.
Delwar Hossain, managing director of Tazreen Fashions Ltd., and his wife, Mahmuda Akter, the company's chairman, surrendered to authorities Sunday. The case is the first of its kind against an owner in Bangladesh's powerful garment industry, which has huge influence in the country's affairs from politics to sports.
A court in Dhaka rejected an initial bail plea from the couple Sunday. On Monday, another court in the capital denied Hossain bail, but it allowed Akter to be freed for one month, as long as she follows conditions and cooperates with the court and investigators.
The November 2012 fire is one of several deadly disasters that have exposed harsh and unsafe working conditions in Bangladesh's key manufacturing sector. The industry's weakness came to light further when a factory collapse last April killed more than 1,100 workers, triggering outcry at home and abroad.
The Tazreen factory, located outside Dhaka, produced clothing for major retailers including Wal-Mart. Prosecutor Anwarul Kabir Babul said it had no emergency exits and its location in a narrow alley prevented firefighters from responding quickly to the blaze. Investigators have said that when the fire broke out, managers and security guards told workers it was part of a regular drill, and workers found the gates locked from outside.
Defense lawyer A.T.M. Gous said in court Monday that neither Hossain nor Akter played any role in in the deaths of the workers. Gous said Hossain was not present in the factory when the fire took place and had made every arrangement to keep the factory safe. He also noted that Hossain continues to employ workers at other garment factories.
"If he is in jail, hundreds of workers will be jobless if those are not run properly. He has done everything despite this disaster to stand by the families of the victims. He has given compensation to the victims. He is also sick and needs family care to stay well, so I am seeking his bail," Gous said.
Akter, Gous said, "is the chairman of the company in paper only. She is actually a mother and a housewife."
But prosecutor Khandaker Abdul Mannan said the couple "must shoulder the responsibilities of the deaths of the workers. They built the factory building violating building codes. They did not take adequate measures to keep it safe for working. They should not get bail in this case, as they could flee to avoid the trial."
Neither Hossain nor Akter appeared in court Monday.
Police filed homicide charges in December against 13 people, including Hossain and Akter, in connection with the fire. Arrest warrants were issued for six of the accused who police said had fled.
Bangladesh, the world's second-largest garment producing country after China, earns more than $20 billion a year from garment exports, mainly to the United States and Europe.
Culpable homicide is a less serious charge than murder, but prosecutors say a conviction could still bring a life sentence.