Lawmaker: SKorea spy agency says North Korea executed defense minister with anti-aircraft fire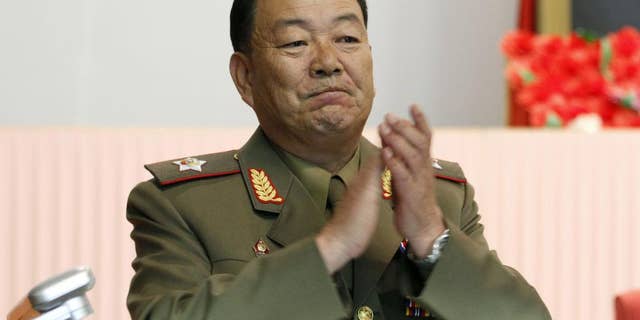 SEOUL, South Korea – North Korean leader Kim Jong Un ordered his defense chief executed with an anti-aircraft gun for complaining about the young ruler, talking back to him and sleeping during a meeting presided over by Kim, South Korea's spy agency told lawmakers Wednesday, citing what it called credible information.
South Korean analysts are split on whether the alleged bloody purge signals strength or weakness from Kim Jong Un, who took power after his father's 2011 death. Some aren't even sure if it really happened. One expert described the reported development, part of a series of high-profile recent purges and executions by Kim, as an attempt to orchestrate a "reign of terror" that would solidify his leadership.
National Intelligence Service officials told a closed-door parliamentary committee meeting that People's Armed Forces Minister Hyon Yong Chol was killed in front of hundreds of spectators at a shooting range at Pyongyang's Kang Kon Military Academy in late April, according to lawmaker Shin Kyoung-min, who attended the briefing.
Kim Gwang-lim, chairman of the parliament's intelligence committee, quoted the spy service as saying Hyon had failed several times to comply with unspecified instructions by Kim. The office of another lawmaker, Lee Cheol Woo, released similar information about the NIS briefing.
The NIS didn't tell lawmakers how it got the information, only that it was from a variety of channels and that it believed it to be true, Shin said. The agency refused to confirm the report when contacted by The Associated Press.
South Korea's spy agency has a spotty record of tracking developments in North Korea. Information about the secretive, authoritarian state is often impossible to confirm.
Analyst Cheong Seong-chang at the private Sejong Institute think tank in South Korea questioned the authenticity of the report on Hyon's execution because the minister still frequently appears in state TV footage.
North Korea typically removes executed and purged officials from TV documentaries, but Hyon has appeared multiple times in a TV documentary on live fire drills between April 30 and May 11, according to Seoul's Unification Ministry. North Korea's state media hasn't mentioned Hyon since an April 29 report of his attendance of a music performance the previous day.
Hyon was named armed forces minister, the equivalent of South Korea's defense minister, in June of last year. He was made a vice marshal of the Korean People's Army in July 2012 before being demoted to a four-star general later that year, according to South Korea's Unification Ministry. Kim, the South Korean parliament's intelligence committee chief, said Hyon was the North Korean military's No. 2 after Hwang Pyong So, the top political officer at the Korean People's Army.
Kim's purges over recent years are seen as efforts to bolster his grip on power. The most notable was in 2013, when Kim executed his uncle and chief deputy, Jang Song Thaek, for alleged treason. Last month, spy officials told lawmakers that North Korea executed 15 senior officials accused of challenging Kim's authority.
Koh Yu-hwan, a North Korea expert at Dongguk University in Seoul, said Kim Jong Un appears to be using purges to keep the military old guard in check because they pose the only plausible threat to his rule. Koh said Kim could be pushing a "reign of terror" to solidify his leadership, but those efforts would fail if he doesn't improve the country's shattered economy.
___
Associated Press writer Kim Tong-hyung contributed to this report.