Latino Students Protest Romney's Visit to Arizona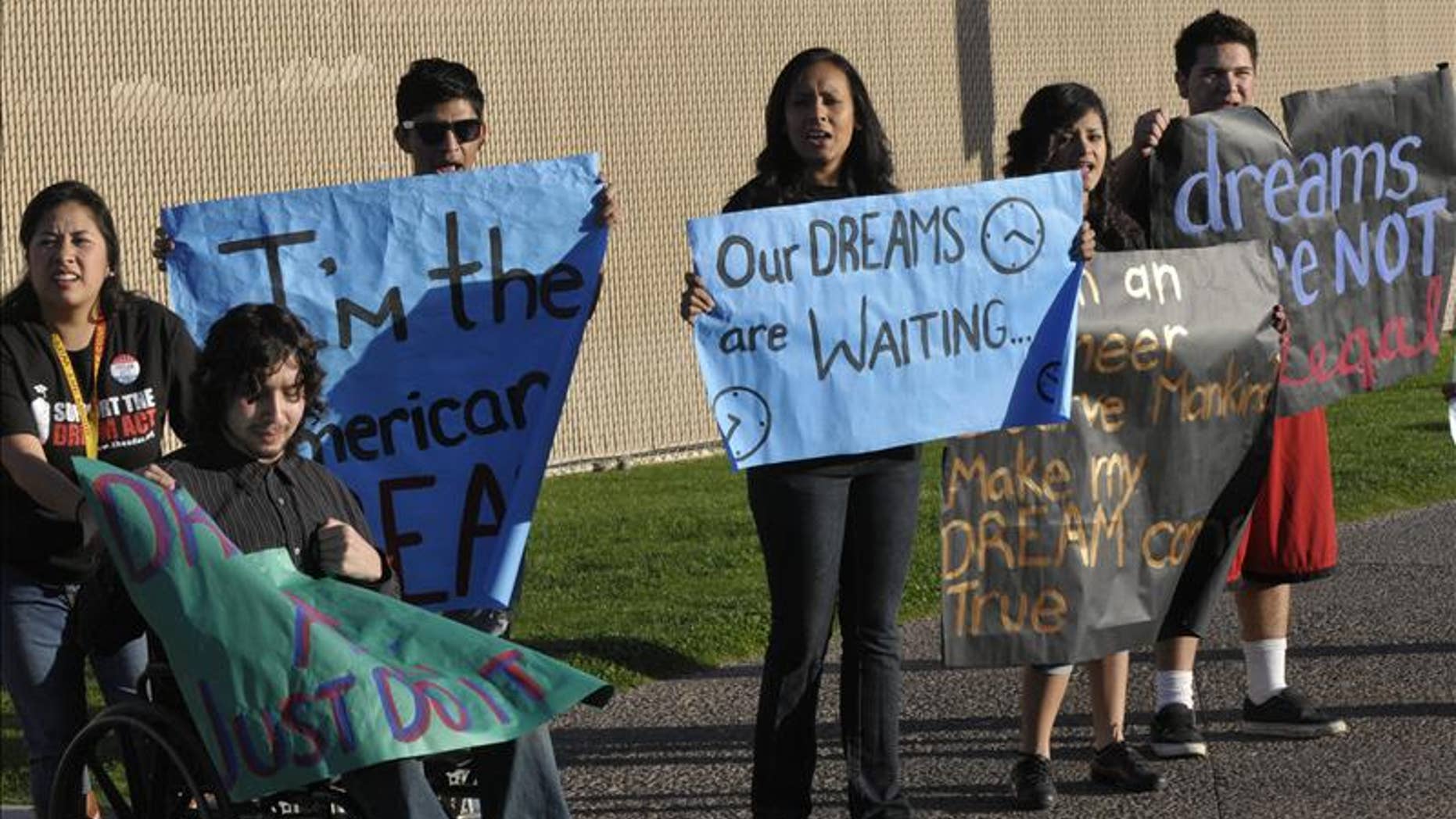 A group of young Hispanics protested the visit of Republican president hopeful Mitt Romney to Arizona because of his stance on immigration reform and the DREAM Act, a bill that would provide a path to legalization for undocumented students.
"We're here because we're not going to let Romney attack the immigrant youth. We're very bothered and disappointed by his promise to veto the DREAM Act if it gets to the White House," Dulce Matuz, president of the Arizona Coalition for the DREAM Act, told Efe.
The proposed legislation would allow the legalization of undocumented students who, among other requirements, entered the country before age 16, complete at least two years of college or enlist in the Armed Forces.
The measure was approved by the House of Representatives in 2007 but stalled in the Senate in December 2010.
Romney's Stance on Latino Issues
Recently, Romney - the front-runner for the GOP nomination - said he favored a version of the DREAM Act that only includes military service, leaving university students out in the cold.
"The current version of the DREAM Act includes the two options of school and the Army. We're not going to let a bill pass ... that would be much less than what we're asking," said Matuz, an undocumented immigrant with an engineering degree from Arizona State University.
Because of her immigration status, the young woman - just like many others - has not been able to get a job in her career field.
The demonstrators outside the amphitheater in suburban Phoenix where Romney was addressing supporters, also criticized the fact that the former Massachusetts governor supports "self-deportation" by undocumented immigrants.
Romney sparked great controversy among Hispanics by proposing the self-deportation of the more than 11 million undocumented immigrants that are estimated to live in the United States.
"That's never going to happen. I think the United States needs real solutions and he is not providing them. We have to inform the Hispanic community so that they take note of the kind of person Romney is and so he can't play around with the Latino vote," Matuz emphasized.
In her opinion, this type of stance only pushes Latino voters farther from the Republican Party.
"The candidates say that young people are the future of this country, but while they continue that attack on immigrant youths they won't have the Latino vote," the activist said.
Cesar Valdez, 19, who is studying translation, is of the same opinion.
Valdez, who came to this country at the age of 4, said that none of the candidates is offering realistic options to resolve the immigration issue.
Follow us on twitter.com/foxnewslatino
Like us at facebook.com/foxnewslatino