Russian doctors clear Putin's critic Alexei Navalny, still in a coma, to be flown to Berlin after alleged poisoning
They insist they do not believe Navalny was poisoned
Russian doctors granted permission Friday for opposition leader Alexei Navalny, the critic of President Vladimir Putin who has been in a coma following allegations he was poisoned in a Kremlin-linked attack, to be flown to Germany for medical treatment.
Still, the Russian doctors asserted that they did not believe he actually was poisoned. Their decision capped off a standoff lasting over 24 hours regarding who could treat him, and where.
A charity organized the flight sending Navalny to Berlin.
Alexander Murakhovksy, the head doctor of a hospital in Omsk, Siberia, said Navalny had been diagnosed with a metabolic disease that may have been caused by low blood sugar, and did not believe that Navalny had been poisoned, Reuters reported.
Navalny, 44, remained in a coma after he fell ill while on a flight back to Moscow, with allies alleging he may have swallowed poisoned tea before boarding the flight.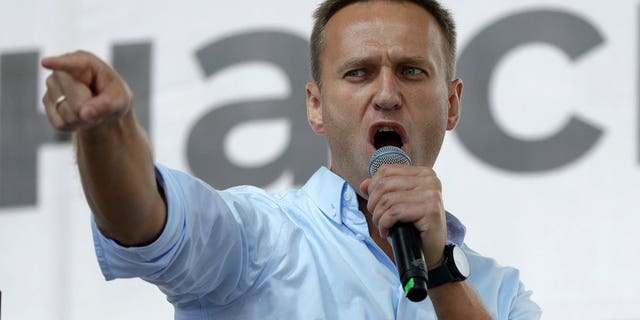 "Poisoning as a diagnosis remains on the back burner, but we don't believe that the patient suffered from poisoning," deputy chief doctor Anatoly Kalinichenko at the hospital in Omsk told reporters Friday.
Yulia Navalnaya, Navalny's wife, openly criticized the hospital after it initially claimed moving him would put his life at risk. German doctors flew out to the hospital and stated that it was safe to move Navalny, but their Russian counterparts disagreed at first, saying he was too unstable to be moved.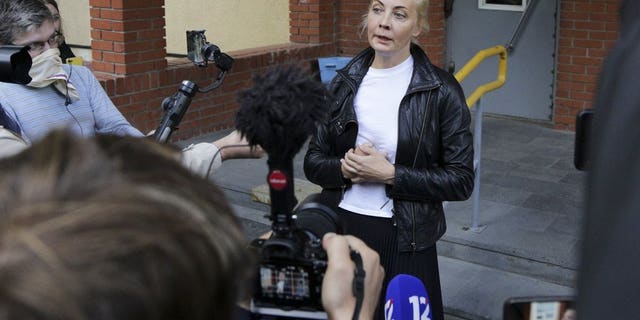 Western toxicology experts expressed doubts that a poisoning could have been ruled out so quickly.
PUTIN CRITIC ALEXEI NAVALNY'S 'POISONING' IS THE LATEST IN A LONG LINE OF ALLEGED KREMLIN-BACKED HITS
"I understand he's still unconscious, but they're used to such special assignments and they say very clearly he can fly and they want to fly him," film producer Jaka Bizilj, of Cinema For Peace, told the Associated Press after being in touch with the German medical team.
Kremlin spokesman Dmitry Peskov said that he wasn't aware of any instructions to stop the transfer and that it was purely a medical decision.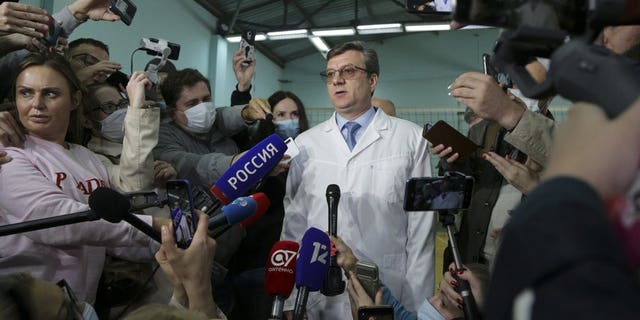 "It may pose a threat to his health," Peskov said.
Dr. Yaroslav Ashikhmin, Navalny's physician in Moscow, said the politician had always been in good health, regularly went for medical checkups and didn't have any underlying illnesses that could have triggered his condition. Ashikhmin said few conditions would prevent patients from being transported.
A plane with German specialists and equipment necessary to transfer Navalny landed in Omsk on Friday, later examining Navalny and determining he was fit to transfer to Germany for treatment. Navalnaya told reports that hospital staff and men - whom she suspected were law enforcement - did not let her speak with the German specialists.
Navalnaya wrote a letter to the Kremlin, directly asking Putin to intervene.
POMPEO VOWS US WILL SANCTION RUSSIA, CHINA IF THEY OPPOSE TRUMP'S 'SNAPBACK' OF UN'S IRAN SANCTIONS
"I officially appeal to you (Putin) to demand you allow the transportation of... Navalny to .. Germany," the letter published on social media read.
Navalny has worked to expose corrupt elites, rising to prominence in the Russian political scene. He bought shares in Russian oil and gas companies so he could achieve greater transparency as an activist shareholder.
While Russia's state-controlled media ignored Navalny, his investigations gained wide attention on back channels and social media.
CLICK HERE TO GET THE FOX NEWS APP
Last year, Navalny was rushed to a hospital from prison, where he was serving a sentence following an administrative arrest, with what his team said was suspected poisoning. Doctors said he had a severe allergic attack and discharged him back to prison the following day.
The Associated Press contributed to this report.