Kim Jong Un's weak voice signals possible kidney problem, expert claims
Kim Jong Un may have delivered a defiant New Year's Day address railing against the United States, but his weak voice during the speech may show the despot is suffering from "a kidney problem," an audio forensic expert said Tuesday.
Chungnam State University professor Cho Dong-uk said he scrutinized Kim's voice for "energy" and tremors, Korea Times reported. Based on the data, Cho said the leader may have kidney issues.
"At least, the samples show that his kidneys are weaker than other organs," Cho said, according to the Korea Times.
NORTH KOREA'S KIM KEEPS TEEN SEX SLAVES, EXECUTES MUSICIANS WITH ANTI-AIRCRAFT GUNS, DEFECTOR REVEALS
Kidney disorders can cause fluid to build up in a person's body and cause organs to swell. Cho cited Kim's rotund stature and his drinking and smoking as possible issues.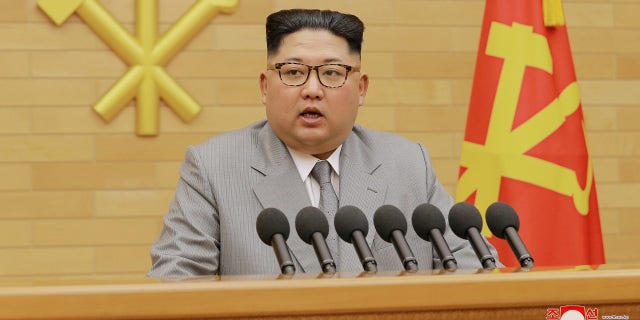 Kim's diet and health is often a topic of speculation because the secretive regime releases little information about the leader -- including when his birthday is. Kim reportedly turned 34 Monday, but North Korea's official calendar did not mark the day as an official holiday.
A North Korean defector previously told The Mirror that Kim fancied "extremely rare delicacies," including $2,700 bird's nest soup and other imported dishes. He would often have schoolgirls serve him the food at his Pyongyang home.