Killing of 3 foreigners the past 2 weeks causing alarm in Colombia's Medellín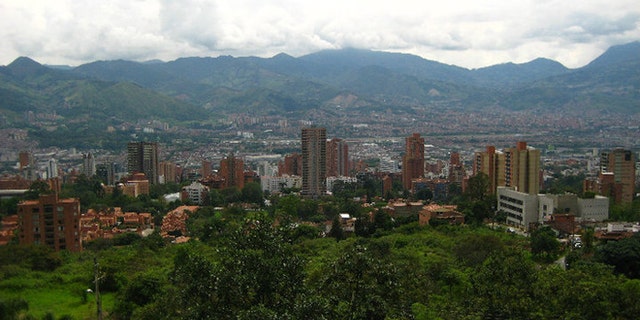 NEWYou can now listen to Fox News articles!
Bogotá, Colombia (AP) – The killing of three foreigners the past two weeks in Medellín is causing alarm in Colombia's second-largest city as it struggles to leave behind its reputation as the one-time murder capital of the world.
Danish tourist Tomás Willemoes was shot and killed last week at close range by an unknown assailant in a popular plaza in the city's most upscale neighborhood. His murder came just days after an Israeli and Mexican, both of whom apparently were living in Medellín, were also killed.
Authorities are at a loss to explain the three killings, which came as the city was showcasing security gains to hundreds of business executives attending the World Economic Forum's annual meeting in Latin America. But at least one victim, the Israeli, appears to have been connected to a criminal ring that promoted sex tourism with prostitutes, prompting an energetic defense from the city's new mayor.
"Any homicide is regretful, regardless of the reasons," Mayor Federico Gutiérrez told journalists on Monday. "But it's very important to say that Medellín can't be a place for sex or drug tourism."
Medellín's murder rate has fallen sharply since the 1980s, when the city was under siege by Pablo Escobar's army of killers. But it's ticking up again this year and authorities worry that it could spoil a nascent tourism boom.
So far this year there have been more than 225 murders, an increase of around 10 percent from 2015, according to Security Secretary Gustavo Villegas. In May alone homicides spiked 80 percent.
Andres Munera, an independent travel guide in Medellín, shares the mayor's outrage and says he's had to turn away foreign customers who came to the city looking for drugs and prostitution. He says the demand for such activities is strong and undercuts the efforts of residents who've worked hard to clean up their city's image as a haven for criminality. Rare among many travel guides in Medellín, his company, Land Venture Travel, doesn't offer tours of the haunts made famous by Escobar's Medellín cartel before the fugitive capo's death at the hands of the police in 1993.
More than 210,000 foreigners visited Medellín last year, a 34 percent jump over 2014, according to the city's tourism board. Key attractions include the giant bronze statues by famous son Fernando Botero, nearby farms and a thriving cultural scene. The area where Willemoes was shot last Thursday night, Parque Lleras, is home to the city's fanciest restaurants and bars.
"I'm sure this will have an impact," said Munera, referring to the murders. "The multiplier effect of bad press is always much higher than someone who tells their friends 'ah, what a great time I had in Medellín.'"
Like us on Facebook
Follow us on Twitter & Instagram