Kidnapping shows 2 terror groups in north Nigeria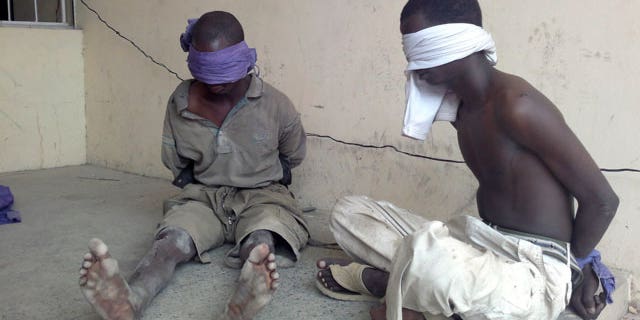 LAGOS, Nigeria-- Al Qaeda's North Africa branch this week claimed the January abduction of a German hostage in north Nigeria, and provided a video of the terrified man begging for his life as men carrying Kalashnikov rifles stood behind him.
The claim is a first in northern Nigeria for the group known as Al Qaeda in the Islamic Maghreb and signals the rising influence of the group among extremists in Nigeria, as well as the growing threat of terrorism in the nation that also sees rising attacks by the radical Islamist sect Boko Haram.
"It's been an escalating threat; it's something of a contagion in terms of the tactics and now the kidnapping," said Jennifer G. Cooke, the director of the Africa program at the Washington-based Center for Strategic and International Studies, of terrorism in the country. "The Nigerian government has been slow to respond."
Gunmen kidnapped German engineer Edgar Fritz Raupach in January from the north Nigeria city of Kano, where he worked for Dantata & Sawoe Construction Co. Ltd. Police said his abductors took him from a construction site, but offered no other details.
This week, Al Qaeda in the Islamic Maghreb released a statement claiming they had Raupach, as well as a video showing him disheveled and asking in German and English for his country to help win his freedom. The group, also known by the acronym AQIM, demanded that German officials release Filiz Gelowicz, a German woman convicted last year of supporting a foreign terrorist network. Gelowicz's husband was among a group convicted of plotting unsuccessfully to attack U.S. soldiers and citizens in Germany.
The kidnapping of the German represented the first concrete violence in Nigeria directly tied to AQIM, which grew out of organizations fighting the Algerian government in the 1990s. Nigeria's security agencies in the past have said they arrested adherents of the group.
However, the group's real impact began to be felt with the rise of Boko Haram, a locally focused Islamist sect that wants to implement strict Shariah law across Nigeria, a multiethnic nation of more than 160 million people. The sect began gun attacks from the backs of motorcycles, but in the last year has advanced to a string of suicide bombings targeting churches, government buildings and even the United Nations headquarters in the capital Abuja.
Analysts believe the rapid change in attacks, including a military-style assault on Kano in January that killed at least 185 people just before the German's kidnapping, shows Boko Haram is receiving some outside instruction or assistance.
"I don't think AQIM kidnapped the German citizen, I think they did it through Boko Haram," said Martin Ewi, an analyst with South Africa's Institute for Security Studies. "The relationship is a give and take. They have trained Boko Haram militants ... (in) bomb making and suicide terrorism, so they have to give back something."
AQIM has purchased hostages before from other groups. It has made an estimated $130 million by kidnapping at least 50 Westerners and holding them for ransom. And north Nigeria remains home to a number of expatriate workers, including Westerners, Indians, Chinese and Lebanese -- meaning it could be fertile ground if the group wants to expand its ransom operations into the region.
But like Boko Haram, AQIM remains a shadowy, loosely affiliated group that also has does business in gun running and drug smuggling, Cooke said. Also, the group's name has a way of being used as almost a talisman for criminal gangs. The group that kidnapped the British and Italian killed in a failed hostage raid in northwest Nigeria this month implied they belonged to an Al Qaeda group, though officials later said they believed them to be from a Boko Haram splinter group.
Even then, what Boko Haram is remains subject to speculation.
"The tendency will be to label anything bad that happens as the work of Boko Haram right now, when in fact, no one is quite clear who is Boko Haram and what is Boko Haram," Cooke said.
Boko Haram has yet to carry out another massive assault since its Kano attack, though many privately believe another will come. While targets largely remain local in their campaign, the influence of AQIM, as well as any intervention by Western governments to aid Nigeria security forces, could make foreigners an increasingly appealing target, Ewi said.
Boko Haram itself appears not to be ruling out that possibility, making mention of "the white man fought and fragmented" the former Islamic emirates that ruled northern Nigeria during a recent teleconference with journalists.
"The white man killed prominent Islamic clerics and emirs and also replaced the white Islamic flag with the Union Jack," a sect spokesman using the nom de guerre Abul Qaqa said. "We want all our people to come together and restore our lost glory."