Kerry meets Israeli, Palestinian leaders amid talk of reviving Arab plan for Mideast peace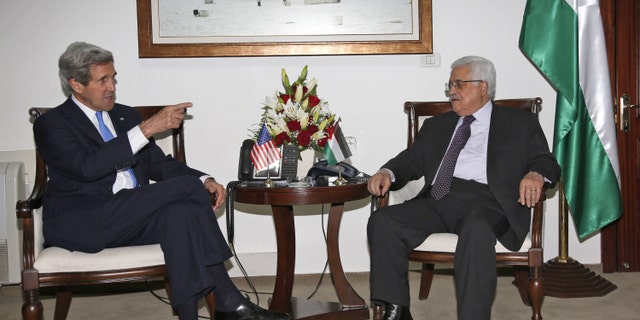 JERUSALEM – Secretary of State John Kerry is meeting with Israeli Prime Minister Benjamin Netanyahu and senior Israeli and Palestinian officials amid talk of reviving a decade-old Arab plan for Mideast peace.
Kerry spent the morning of Israel's Holocaust memorial day visiting Yad Vashem. He was to meet later Monday with Palestinian Prime Minister Salam Fayyad and Israeli President Shimon Peres.
Kerry then has a dinner with Netanyahu; he met Palestinian President Mahmoud Abbas on Sunday.
Kerry is trying to end a 4½-year Israeli-Palestinian stalemate.
He hasn't publicly outlined a new plan.
But Palestinian and Arab officials say he wants to modify the 2002 Arab Peace Initiative that offered peace with Israel for a pullout from territories captured in 1967.
Officials say Kerry seeks Arab-Israeli security commitments and softer language on borders.