Kangaroo in zoo dies after being pelted by bricks from tourists trying to see it hop: report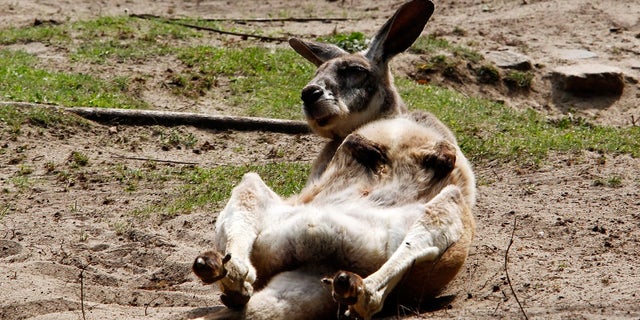 NEWYou can now listen to Fox News articles!
Tourists at a zoo in South China pelted a kangaroo with bricks in an attempt to see the animal hop, but the animal was fatally injured, The AFP reported Thursday, citing state television.
The marsupial died after a few days after suffering a ruptured kidney, the report said. A few weeks later, another kangaroo in the enclosure was slightly injured in a similar incident, the report said.
The report said that visitors at the Fuzhou Zoo in Fujian province are known to try and get kangaroos to hop. The zoo reportedly said it will install cameras and stuff the 12-year-old female.
The report showed the kangaroo, with a nearly severed foot, being treated for its injuries.
It is unclear if anyone was charged after the Feb. 28 incident.
NDTV reported that China has few regulations for its zoos and wildlife park, and pointed to a June incident where a donkey was dropped into a tiger pit due to unhappy business investors.