Kagawa says 'Ask Moyes why I'm not playing'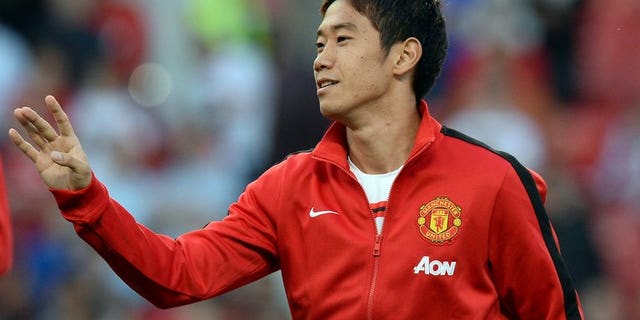 YOKOHAMA, Japan (AFP) – Japan playmaker Shinji Kagawa voiced frustration at being sidelined by new Manchester United manager David Moyes after scoring a cracker in his country's 3-1 win over Ghana on Tuesday.
Twice the Bundesliga player of the year with Borussia Dortmund, Kagawa has played just seven minutes for English champions United this season, appearing as a substitute in the 2-0 Community Shield victory over Wigan on August 11.
"Please ask David Moyes why I'm not in the side," Kagawa told AFP after his equaliser provided the spark for Japan's comeback win in Yokohama.
"It is frustrating not playing but to score a goal like that gives me confidence. Hopefully I can take that back to my club with me and things will improve."
The 24-year-old was an instant hit at Old Trafford after being signed by Alex Ferguson in June last year, but he has cut a forlorn figure this season, left out of the squad altogether for United's 1-0 defeat at Liverpool before the international break.
"It's hard not playing regularly. Some days the frustration is worse than others -- it comes in waves," said Kagawa, an unused substitute in United's games against Swansea and Chelsea before the loss at Anfield.
"So it's nice to come back to Japan and get to play, and to score felt good. I missed one in the first half tonight so when the chance opened up in the second for me to shoot I wanted to take it on," added Kagawa, who celebrated his sweetly struck goal with a roar of delight.
"I think I caught it flush -- I don't remember. I just have to keep working hard and keep pushing for my chance. When I get back it will be a challenge to get into the team."
Kagawa's omission against Liverpool, where United were bereft of creativity in midfield, triggered criticism of Moyes in the British media and among sections of United's supporters.
There is even a parody Twitter account called "Evil Kagawa" with over 142,000 followers, among them United team-mate Rio Ferdinand, purporting to be the Japanese midfielder and poking fun of Moyes in pigeon English for not picking him ahead of Nani, Ashley Young and Ryan Giggs.
"It's nice to feel support but I have to do my talking on the pitch," said Kagawa, who was even linked with a return to Dortmund in the July-August transfer window.
"When I get back to my club I have to wait for my chance in the Champions League and the Premier League. I'm sure my chance will come."