Kabul Intercontinental Hotel siege leaves more than 40 dead, Afghanistan official says
More than 40 people were killed after Taliban gunmen stormed the Intercontinental Hotel in Afghanistan's capital on Saturday, a government official told Fox News on Sunday.
The assault by six "heavily-armed" assailants pinned down security forces for more than 13 hours before the last attacker was killed, as guests were forced to flee the building while parts of the structure caught fire.
Some guests couple be seen shimmying down tied-together bedsheets from upper-floor windows, while others were rescued by Afghan forces. The heavily-guarded luxury hotel is popular among foreigners and Afghan officials.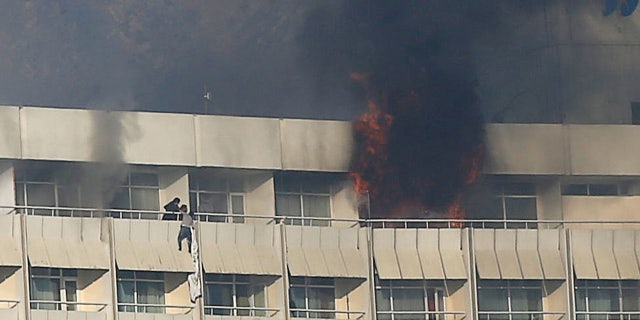 Interior Ministry spokesman Najib Danish said at a press conference among those killed included a foreigner and a telecommunications official from the western Farah province who was attending a conference. Six other people, including three security forces, were reported wounded and more than 150 people, including 41 foreigners, were rescued from the hotel, Danish said.
At least 11 of those killed were employees of KamAir, a private Afghan airline, Danish said at a news conference. KamAir put out a statement saying some of its flights were disrupted because of the attack.
"They were shouting in Pashto (language), 'Don't leave any of them alive, good or bad. Shoot and kill them all,' one of them shouted."
Six of those killed were Ukrainians, said Ukrainian Foreign Minister Pavlo Klimkin, who added that his office was working with Afghan law enforcement agencies "to clarify the circumstances of this terrorist act."  A citizen from Kazakhstan also was among the dead at the hotel, Anuar Zhainakov, a spokesman for the Kazakh Foreign Ministry, told the Associated Press.
An Afghan government official told Fox News on Sunday bodies are still being discovered, and the final death toll may not be known for a while.
Abdul Rahman Naseri, a guest who was at the hotel for a conference, told Reuters he was in the hall of the hotel when he saw four insurgents dressed in army uniforms.
"They were shouting in Pashto (language), 'Don't leave any of them alive, good or bad. Shoot and kill them all,' one of them shouted," Naseri said.
TALIBAN CLAIM RESPONSIBILITY FOR DEADLY ATTACK AT KABUL HOTEL
Witnesses said some areas of the building looked like a butcher's shop with blood everywhere, Sky News reported.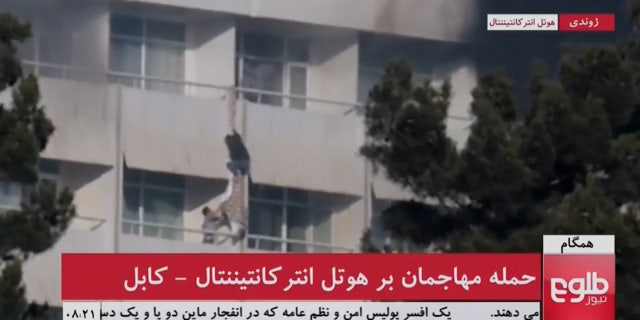 At the onset of the attack, gunmen shot at people who were having dinner in one of the hotel restaurants before breaking into guests' rooms. A fire eventually broke out at the hotel as the fighting raged, and the sound of explosions could be heard throughout the standoff. Live TV footage showed people trying to escape through windows on the upper stories.
Several people managed to escape to the hotel's outdoor pool area where they hid until being rescued by security officers.
Aziz Tayeb, who hid behind a pillar, said he heard blasts "one after another."
"I saw people who were enjoying themselves a second ago screaming and fleeing like crazy, and some of them falling down, hit by bullets," he said.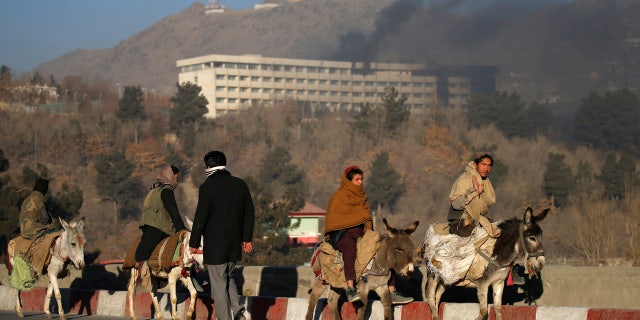 The Intercontinental is one of two main luxury hotels in the the country's capital and was to host an information technology conference on Sunday, according to Reuters. More than 100 IT managers and engineers were on site when the attack took place, Ahmad Waheed, an official at the telecommunications ministry, told the news agency.
The Taliban claimed the attack, which began around 9 p.m. Saturday, saying five gunmen armed with suicide vests targeted foreigners and Afghan officials.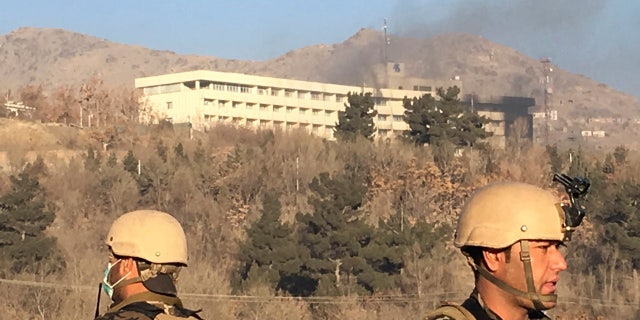 Taliban spokesman Zabihullah Mujahid said the insurgents initially planned to attack the hotel Thursday night but postponed the assault because there was a wedding underway and they wanted to avoid civilian casualties. The U.S. Embassy in Kabul had issued a warning to American citizens on Thursday, saying: "We are aware of reports that extremist groups may be planning an attack against hotels in Kabul."
The U.S. Ambassador to Afghanistan, John R. Bass, condemned the attack, saying in a statement, "such violence has no place here or anywhere in the world" and that the U.S. Embassy is in "close contact with Afghan authorities, who are continuing to investigate the incident."
"Afghanistan deserves peace and security – not deliberate and murderous attacks on innocent civilians," Bass said. "My government and the people of the United States stand with the Afghan government and people in fighting terrorism and working to bring peace and security to Afghanistan."
The attack unfolded almost six years after Taliban insurgents launched a similar assault on the property, which is not part of the Intercontinental chain of worldwide hotels.
Capt. Tom Gresback, spokesman for NATO-led forces, said in a statement that Afghan forces were leading the response efforts. He said that according to initial reports, no foreign troops were hurt in the attack.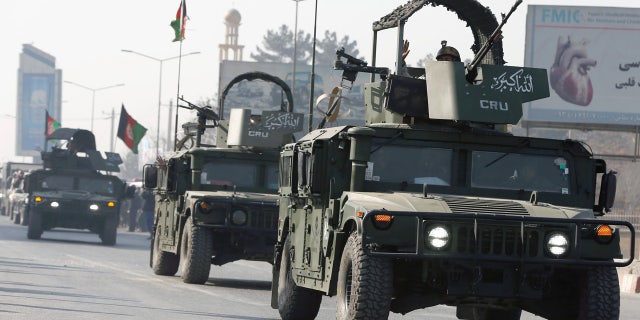 Afghan forces have struggled to combat the Taliban since the U.S. and NATO formally concluded their combat mission at the end of 2014. They have also had to contend with a growing Islamic State terror group affiliate that has carried out a number of massive attacks in recent years.
The Associated Press contributed to this report.