Judge To Hear Arguments Over Zimmerman's Education Records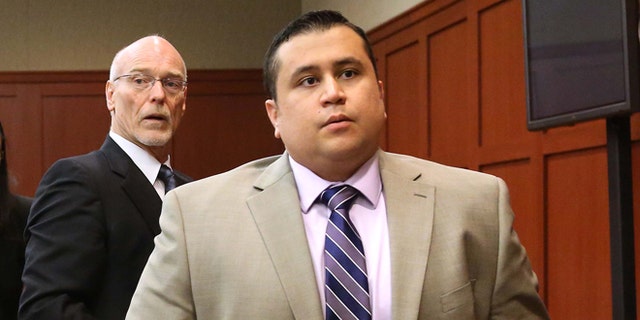 Sanford, Fla. – The judge in the George Zimmerman murder trial plans to hear arguments about whether to allow evidence about a college criminal justice course the confessed killer of Trayvon Martin took that included course work on Florida's self-defense law.
Judge Debra Nelson is hearing the arguments from attorneys Wednesday morning outside the jury's presence.
The prosecution said the school records will show that Zimmerman had knowledge of the law, though the neighborhood watch volunteer maintained in an interview with Fox News last year that he didn't. The interview was played for the jury Tuesday.
Prosecutors also are seeking to introduce a job application Zimmerman made to a police agency in Virginia in 2009 and an application to ride around with Sanford police officers in 2010.
Defense attorneys believe the items are irrelevant and will be asking the judge to disallow them. He referred to the prosecution's efforts to introduce them as "a witch hunt."
The judge said she would rule later in the week.
Zimmerman, 29, has pleaded not guilty to second-degree murder in the fatal shooting of Trayvon Martin. Zimmerman has said he shot the 17-year-old Martin in self-defense last year after they got into a fight in a Sanford, Fla., gated community.
O'Mara told CNN on Tuesday night that if prosecutors start bringing up Zimmerman's past, "then it really brings in what Trayvon Martin brings to the table, all of his violent acts that we know about and some of the fighting that he was involved in."
In testimony Tuesday, prosecutors tried to pick apart the statements of a Sanford police detective who was a prosecution witness but gave testimony that legal analysts said helped the defense.
Prosecutor Bernie de la Rionda asked the judge to strike from the record a statement that Detective Chris Serino made Monday in which he said he found Zimmerman's account of how he got into a fight with Martin to be credible.
De la Rionda argued the statement was improper because one witness isn't allowed to give an opinion on the credibility of another witness. Defense attorney Mark O'Mara argued it was proper because it was Serino's job to decide whether Zimmerman was telling the truth.
Nelson told jurors to disregard the statement.
"This is an improper comment," the judge said.
The initial lack of an arrest by the Sanford police following the death of Martin, an unarmed black teenager, in February 2012 led to protests across the nation and spurred a debate about race and the laws of self-defense. Zimmerman's father is white and his mother is from Peru. Sanford's police chief was fired months later, and a Florida special prosecutor ultimately charged Zimmerman with second-degree murder.
On Tuesday, prosecutors also questioned Serino about his opinion that Zimmerman didn't display any ill will or spite to Martin. Prosecutors must prove there was ill will, spite or a depraved mind by the defendant to get a second-degree murder conviction.
The prosecutor played back a recording of Zimmerman's call to police to report the teen walking through his gated community. Zimmerman uses an expletive, refers to "punks" and then says, "These a-------. They always get away."
The detective conceded that Zimmerman's choice of words could be interpreted as being spiteful.
The prosecutor also challenged Serino's contention that Zimmerman's story didn't have any major inconsistencies.
The prosecutor played back Zimmerman's police interview and noted that investigators were asking about small differences in his account. Zimmerman said he spread out the teen's arms after the shooting. But a photo taken immediately afterward shows Martin's arms under his body.
"Is that inconsistent with the defendant's statement he spread the arms out?" de la Rionda asked.
"That position, yes it is," Serino said, though he later noted that Zimmerman's description was consistent with the medical examiner's report.
Later, in response to Serino's cross-examination testimony that he'd seen a convenience store video that showed Martin in a hooded sweatshirt, de la Rionda asked, "Are you saying in Seminole County, it's illegal for someone to wear a hoodie at night?"
"No sir. I'm not," Serino said.
Zimmerman has said he fatally shot Martin because the teenager was banging his head into a concrete sidewalk behind townhomes in the neighborhood. Zimmerman could get life in prison if convicted.
The state argued during its opening statement that Zimmerman profiled Martin from his truck and called a police dispatch number before the altercation. Zimmerman has denied the confrontation had anything to do with race, as Martin's family and their supporters have claimed.
Late in the morning, the prosecution called Mark Osterman, a federal air marshal who described Zimmerman as "the best friend I've ever had."
He testified that he spoke with Zimmerman both the night of and the day after the shooting. Osterman later wrote a book about his recollections of what Zimmerman told him.
Under questioning by de la Rionda, Osterman said Zimmerman told him Martin had grabbed his gun during their struggle, but that Zimmerman was able to pull it away.
That account is different from what Zimmerman told investigators in multiple interviews when he only said it appeared Martin was reaching for his gun prior to the shooting. He never told police the teen grabbed it.
"I thought he had said he grabbed the gun," Osterman said. "I believe he said he grabbed the gun."
Prosecutors also called to the witness stand a medical examiner from Jacksonville who didn't perform the autopsy on Martin but who was asked by prosecutors to review evidence in the case. Dr. Valerie Rao testified that Zimmerman's injuries were insignificant, bolstering the prosecution's claims that Zimmerman's life wasn't in jeopardy during his fight with Martin.
"They were so minor that the individual who treated and examined Mr. Zimmerman decided stitches weren't required," Rao said.
Based on reporting by The Associated Press.
Follow us on twitter.com/foxnewslatino
Like us at facebook.com/foxnewslatino