Judge considers second trial in Sheriff Joe Arpaio profiling case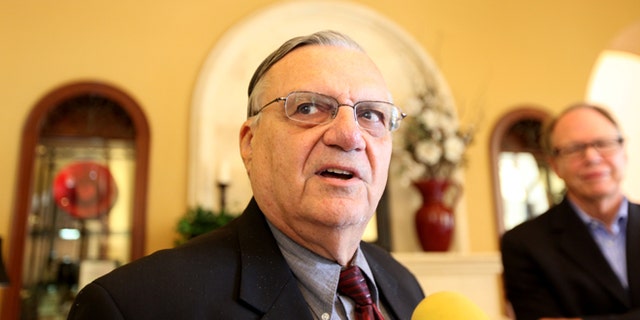 PHOENIX (AP) – A judge who nearly two years ago ruled that an Arizona sheriff's office racially profiled Latinos has signaled his willingness to hold a second trial in the case to explore the lawman's acknowledged violation of a 2011 order to stop conducting his signature immigration patrols.
Lawyers who won the profiling case said Friday that hundreds of Latinos have been identified as having been pulled over by Maricopa County Sheriff Joe Arpaio's office in violation of the pretrial order and should be financially compensated by the county for the harm they suffered.
The county's potential financial exposure from the violation is unknown. Even so, Arpaio had offered nearly two months ago to seek $350,000 in seed money from the county for a fund to compensate those who were harmed.
U.S. District Judge Murray Snow told attorneys on both sides to try to resolve the process for compensating victims and other issues in hopes of avoiding a trial. He said that he will grant a new trial if an acceptable settlement isn't reached.
Arpaio is undergoing civil contempt of court proceedings for his acknowledged violation in failing to inform his officers about the 2011 pretrial order, leaving them to violate the injunction for about 18 months.
The sheriff also has accepted responsibility for his agency's failure to turn over traffic-stop videos in the profiling case and bungling a plan to gather such recordings from officers once some videos were discovered.
Arpaio could face fines. The judge has said he intends to later launch a criminal contempt case that could expose the sheriff to jail time. The sheriff has proposed paying $100,000 from his own pockets to a civil rights organization in an unsuccessful bid to call off the civil contempt hearings.
The sheriff's office said in mid-March that it identified at least five people who were detained by deputies in violation of the 2011 preliminary injunction. But opposing attorneys said they are seeking to contact hundreds of Latinos who have been identified as victims of the violation, though they concede it's unlikely that all will come forward.
Stan Young, one of the attorneys pressing the case against Arpaio's office, said Mexican officials are helping to find some of the victims both in the United States and Mexico.
The attorneys opposing Arpaio are expected to ask the judge to impose new remedies in the profiling case that will confront what they say are inadequate internal investigations into wrongdoing by officers and new procedures to prevent the types of violations Arpaio has acknowledged.
Michele Iafrate, an attorney representing the sheriff's office, objected to the judge's views on who would be considered eligible victims of the violation.
Snow said he believes the compensation would apply to Latinos who were not only pulled over in traffic patrols after the preliminary injunction was issued but also to some Latinos detained in Arpaio's business raids aimed at seeking out people who used fake or stolen IDs to get jobs.
Over the last seven years, the profiling case has cost the county $6.8 million in attorneys' fees, and the county has forked over $2.6 million to pay a staff that is monitoring the sheriff on behalf of the judge.
Taxpayers also are picking up the costs of video cameras in patrol vehicles and the creation of a fund to compensate people harmed by the violation of the 2011 order that barred Arpaio's immigration patrols.