Joint U.S.-Mexico inspection of trucks at AZ border proves successful, officials say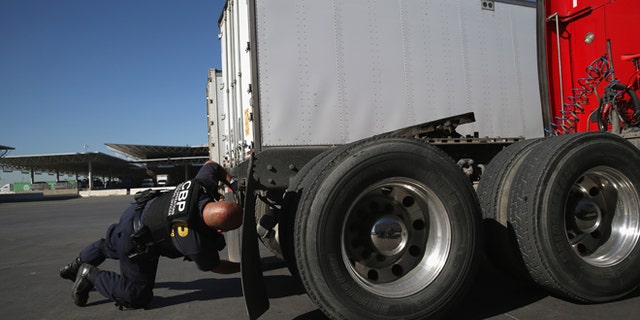 NEWYou can now listen to Fox News articles!
NOGALES, Ariz. (AP) – Federal authorities say a program that allows U.S. and Mexico officers to jointly inspect commercial trucks heading north is helping shorten border crossing wait times in Arizona.
U.S. Customs and Border Protection Commissioner Gil Kerlikowske and his Mexican counterpart, Ricardo Trevino, will tout the program during a news conference in Nogales, Arizona, on Thursday.
The program is part of an overall effort to improve trade conditions between the U.S. and Mexico. A major expansion of the Mariposa Port of Entry in Nogales, one of the busiest ports in the Southwest, was completed two years ago in an effort to better facilitate commercial trucks heading north.
In Arizona, trade from Mexico accounts for billions in profit. Arizona ports of entry facilitated $18.1 billion in imports from Mexico to the United States last year, according a report by the Economic and Business Research Center at the University of Arizona's Eller College of Management.
"The key thing to keep in mind is that both import and exports through our ports of entry can improve the state's economy," the program's director, George Hammond, said. "Mexico is a key trade partner with us."
Guillermo Valencia, the chairman of The Greater Nogales and Santa Cruz County Port Authority, said his organization lobbied CBP to implement the program in Arizona and that it has already reduced wait times.
"I think that the program is gonna work so well that we're gonna be pressed to expand it. I really think it's a novel idea," Valencia said. "It shows how most governments can work together and collaborate on improving the efficiency of the importing."