John F. Kennedy Memorial: Young L.A. Artist Remembers A President Killed Before He Was Born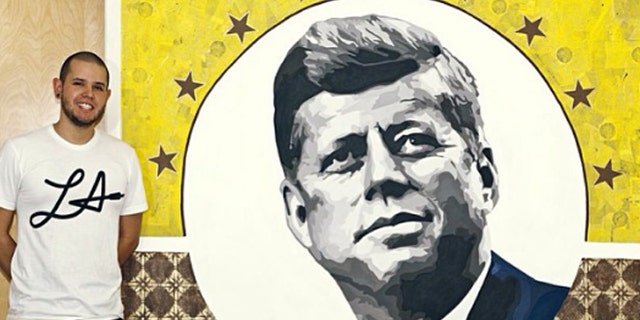 Los Angeles – He was born more than a quarter-century after President John F. Kennedy died, but 24-year-old artist Alex "Ali" Gonzalez said the young president was always one of his mother's heroes.
That's why she pressured him to attend Los Angeles' John F. Kennedy High School a decade ago when he considered going elsewhere.
"My mom loved that I was coming here. She really pushed that I come to this school," Gonzalez recalled with a laugh earlier this week while he returned to campus for a celebration of Kennedy's life.
That larger-than-life Kennedy mureal found just past the school's main office? Gonzalez painted last year. It was a gift from the 2007 graduate, whose work is often seen these days on TV show The Voice and in L.A. galleries.
"I don't paint a portrait of just anyone," Gonzalez said. "I like to paint inspirational people. So that when people sit back and look at that painting, they will be inspired."
That's what happened to him, he said, when his teachers explained why his immigrant parents so greatly admired a man who was an early advocate of civil rights and inspired millions of Americans to make their country a better place.
"He was a great man overall," Gonzalez said, pausing to check out a display honoring Kennedy's military service. "He was a true American."
Based on reporting by The Associated Press.
Follow us on twitter.com/foxnewslatino
Like us at facebook.com/foxnewslatino