Japan Central Bank Injects $184B as Stocks Plunge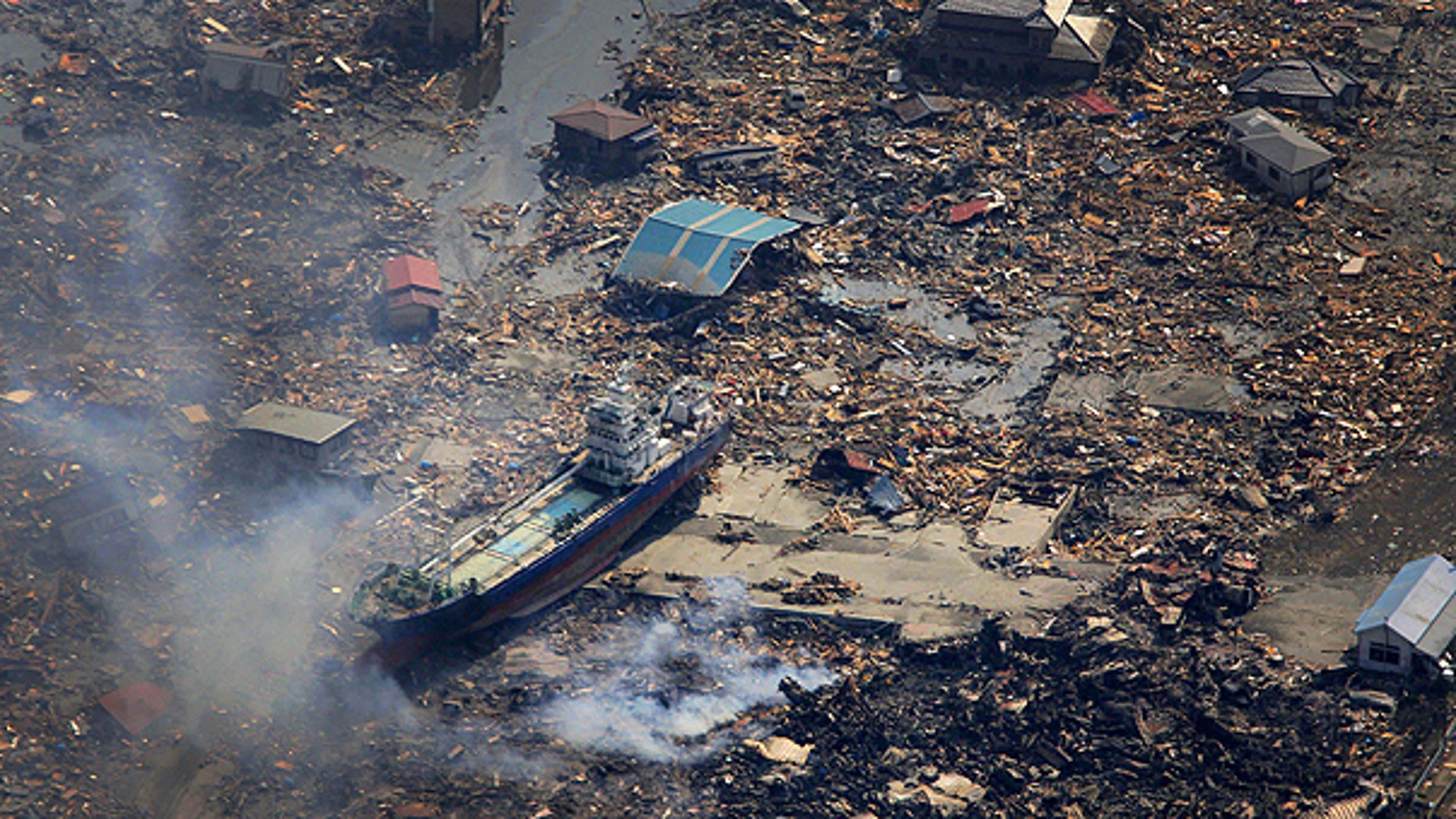 TOKYO -- Japan's central bank is injecting a record 15 trillion yen ($183.8 billion) into money markets, while the Tokyo stock market nosedived Monday on the first business day since an earthquake and tsunami devastated the country's northeast and raised dire worries about the economy.
The benchmark Nikkei 225 stock average plunged about 641 points, or 6.3 percent, to 9,612.88, extending losses from Friday. The earthquake hit shortly before markets closed for the weekend.
Worries about the economic impact of the disaster triggered a plunge that hit all sectors. The broader Topix index was down more than percent. Shares of several major companies were overwhelmed with sell orders and had yet to trade.
Among those, the Tokyo Electric Power Co. was set to fall by double digits as it faced power shortages and second hydrogen explosion at a nuclear reactor Monday, sending a massive column of smoke into the air and wounding six workers. Toyota Motor Corp., the world's biggest automaker, tumbled 7.4 percent.
The Bank of Japan moved quickly to try to keep financial markets stable. By flooding the banking system with cash, it hopes banks will continue lending money and meet the likely surge in demand for post-earthquake funds. Central bankers were gathered Monday for a one-day policy board meeting.
"The Bank will continue to grasp the situation of the financial markets and business operations of financial institutions, and to stand ready to respond and act as necessary," it said a statement.
Preliminary estimates put repair costs from the earthquake and tsunami in the tens of billions of dollars -- a huge blow for an economy that lost its place as the world's No. 2 to China last year, and was already in a fragile state.
Japan's economy has been ailing for 20 years, barely managing to eke out weak growth between slowdowns, saddled by a massive public debt that, at 200 percent of gross domestic product, is the biggest among industrialized nations.
"In the short term, the market will almost surely suffer and stocks will plunge. People might see an already weakened Japan, overshadowed by a growing China, getting dealt the finishing blow from this quake," said Koetsu Aizawa, economics professor at Saitama University.
The nation's big-three automakers, meanwhile, said they would halt all production in Japan due to widespread damage to both suppliers and transport networks in the region.
Tens of billions of dollars are expected to be needed to rebuild homes, roads and other infrastructure -- requiring public spending that will add to the national debt.
"The impact on Japan's economy will be devastating," said Sheila Smith, senior fellow for Japan Studies at the Council on Foreign Relations, a New York-based think tank. "The long-term economic blow to a country already struggling to lower its budget deficit ... will be significant."
Noting the 1995 earthquake in Kobe cost $132 billion and was the world's most expensive natural disaster, she said it was too early to say whether the losses from Friday's disaster would be on that massive a scale.
Four nuclear plants were damaged in the temblors, causing widespread power outages. In a frantic effort to prevent meltdowns, nuclear plant operators ruined at least two reactors by pumping sea water into them.
In an unprecedented move for tech-savvy Japan in recent decades, Tokyo Electric Power Co. rolled out blackouts of three hours per day to parts of suburban Tokyo and other cities, starting Monday.
And Tokyo trains, which usually run like clockwork but stopped for nearly the entire day after the quake, will be on a reduced schedule starting Monday, to conserve electricity.
"It looks like we are going to be running on reduced electricity for a long time. That is a definite risk to industrial production," said Carl Weinberg, chief economist at New York-based researcher High Frequency Economics.
"For Japan, a nation that lives by the sea, food comes in by the sea, energy comes in by the sea, exports go out by the sea. Everything stops if a quarter of the coastline has been wiped out," said Weinberg who teaches at New York University.
Profits at both Tokyo Electric and Tohoku Power utility are likely to plummet because of recovery costs for the nuclear power plants damaged by the quake, according to Shigeki Matsumoto, analyst at Nomura Securities Co.
Toyota Motor Corp., the world's top automaker, as well as Nissan Motor Co. and Honda suspended production at all their auto plants in Japan, starting Monday.
When production will resume is uncertain. The area hit by the quake is a major center for car production, complete with a myriad of parts suppliers and a network of roads and ports for efficient shipments.
"There is no way to get our products out, even if we make them, with the roads and distribution system damaged," said Honda Motor Co. spokeswoman Natsuno Asanuma.
Honda said the production halt will cost it about 4,000 vehicles a day.
Nissan said the tsunami damaged 1,300 vehicles bound for the U.S., including its Infiniti luxury brand, at Hitachi port in Ibaraki state in the northeast, and 1,000 vehicles stored at another center.
Among the plants being shut down is one Toyota had just opened in Miyagi prefecture, within the region hardest hit by the quake.
The factory, Toyota's first new Japan plant in 18 years, had been proudly shown to reporters last month as a welcome development in an otherwise stagnant Japanese auto market. It was set to start producing the Corolla for both the Japanese and North American markets in April.
Electronics plants in the northeast were also temporarily closed, including those owned by Sony Corp. and Toshiba Corp.
But Aizawa, the economics professor, warned against too much pessimism.
A giant disaster can get Japan to pull together and even provide opportunities for construction and jobs as the recovery gets under way, he said.
"There can be a blessing even in misfortune," he said. "Recovery is about regaining a livelihood for people. No one is going to blame Japan or lower its debt ratings for working on a recovery. This is about lives."