Japan broadcaster alerts North Korea missile launch that didn't happen
Japan's largest broadcasting service alerted citizens early Tuesday to the launch of a North Korean missile allegedly bound for the country -- but no launch occurred and the message was sent in error, the second such blunder in four days for a region on edge.
NHK News sent the alert to users on the broadcaster's website and to people who downloaded the NHK app asking citizens to take cover and evacuate right away, USA Today reported.
The alert stated: "North Korea appears to have fired a missile."
The warning was sent out around 6:55 p.m. in Japan. However, the government never released any news regarding a Hermit Kingdom missile launch.
A corrected version of the warning was sent out minutes later: "Patterns of North Korean missile launch is erroneous."
It was not immediately clear why the alert was sent out and what caused the mistake. A spokesman with the broadcasting agency told Reuters an investigation was ongoing.
In November, North Korea fired an intercontinental ballistic missile which landed in Japanese waters. Kim Jong Un's regime has threatened numerous times to launch a missile at Japan or the United States.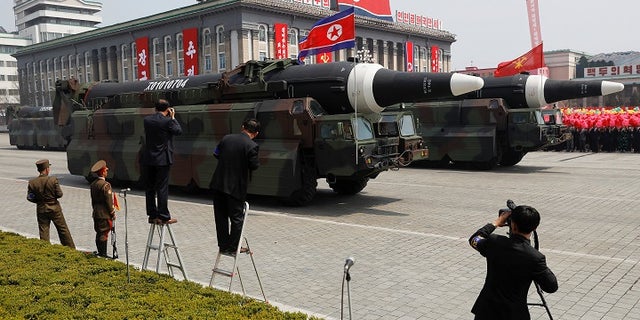 The false alarm Tuesday followed another alert mistake from Hawaii.
On Saturday, Hawaii's Emergency Management Agency mistakenly sent out an alert stating: "BALLISTIC MISSILE THREAT INBOUND TO HAWAII. SEEK IMMEDIATE SHELTER. THIS IS NOT A DRILL."
For some 40 minutes, Hawaiian citizens and visitors across the islands panicked and sought shelter until a correction reached them. The agency tweeted a correction 10 minutes after the initial alert but the revised message didn't reach cellphones until about 40 minutes later.
Hawaiian officials apologized repeatedly and said the alert was sent when someone hit the wrong button during a shift change. They vowed to ensure it would never happen again.
"We made a mistake," said Hawaii Emergency Management Agency Administrator Vern Miyagi.
The Associated Press contributed to this report.