Jair Bolsonaro, Brazilian presidential candidate, stabbed during event, suspects in custody: reports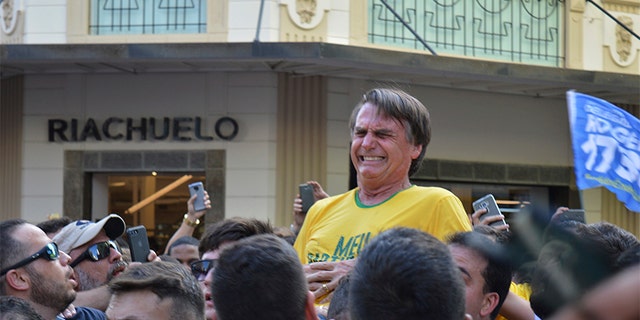 NEWYou can now listen to Fox News articles!
Jair Bolsonaro, a Brazilian politician and presidential candidate, was stabbed on Thursday, police told The Associated Press.
The incident occurred while the candidate was at an event in Juiz de Fora, Globo.com reported.
A video of the moment captured and posted on social media showed Bolsonaro as he was hoisted in the air above a crowd before he was struck in the stomach. He could be seen clutching his lower right side after apparently getting stuck.
BRAZIL PRESIDENTIAL HOPEFUL: LET POLICE KILL CRIMINALS
A suspect behind the incident was taken into custody, police spokesman Flavio Santiago told The Associated Press, and confirmed that Bolsonaro had been stabbed.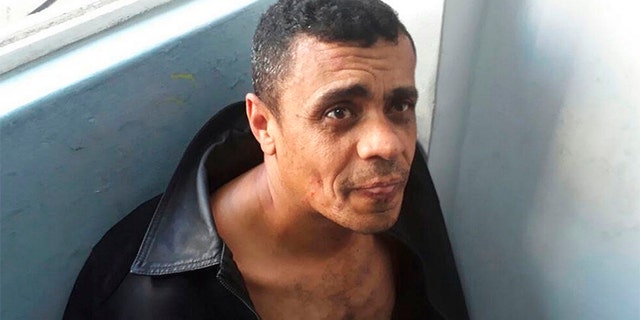 The suspect is Adélio Bispo de Oliveira, Globo reported, citing the Military Police of Minas Gerais.
A second suspect believed to have been connected to the incident was also arrested, according to a Brazilian media report, citing police official Carlos Capistrano.
The candidate was transported to a hospital and was listed as being in good condition, Santiago said.
Globo reported that Bolsonaro was having surgery. In a statement obtained by The Associated Press, the hospital said Bolsonaro was in surgery but did not elaborate.
In a translated tweet from the candidate's son, Flavio Bolsonaro said his father was okay and described the wound as "superficial."
A follow-up tweet from the son indicated that the wound was "more serious" than initially thought but his father's condition appeared to be "stabilized."
BRAZILIAN PRESIDENTIAL CANDIDATE CONSIDERS SKIPPING DEBATES
Juiz de Fora is located approximately 125 miles north of Rio de Janeiro.
Bolsonaro is second in the polls to ex-President Luiz Inacio Lula da Silva, who has been barred from running but continues to appeal the decision.
Bolsonaro, who has been a congressman since 1991, is running as an outsider whose platform includes cracking down on crime in Latin America's largest nation. The Brazilian presidential election is set to begin in October with voting to take place toward the end of the month.
The Associated Press contributed to this report.