Jailed Venezuela opposition leader Leopoldo Lopez given house arrest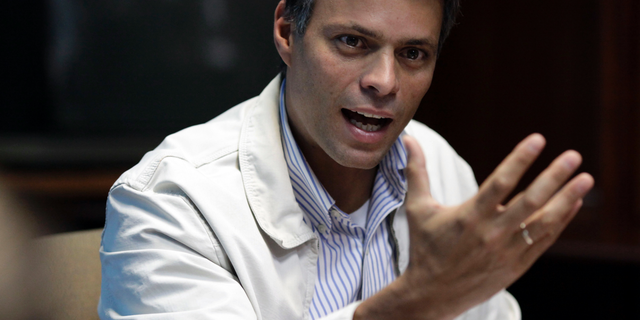 CARACAS, Venezuela – Jailed opposition leader Leopoldo Lopez was transferred to house arrest after spending more than three years behind bars in a military prison, Venezuela's Supreme Court said Saturday.
A court statement said Lopez was granted the "humanitarian measure" for health reasons. It was instituted by court President Maikel Moreno, who agreed to evaluate the case due to "serious signs of irregularities."
The 46-year-old Lopez was detained in February 2014 for allegedly inciting violence during anti-government protests in which three people died and dozens were wounded. A year later he was sentenced to nearly 14 years in prison.
"It gives us great pleasure that Leopoldo Lopez is at his home with his family!" fellow opposition leader Henrique Capriles said via Twitter. "He must be given his full freedom, like all the political prisoners!"