Ivory Coast President: Gbagbo Will Face Charges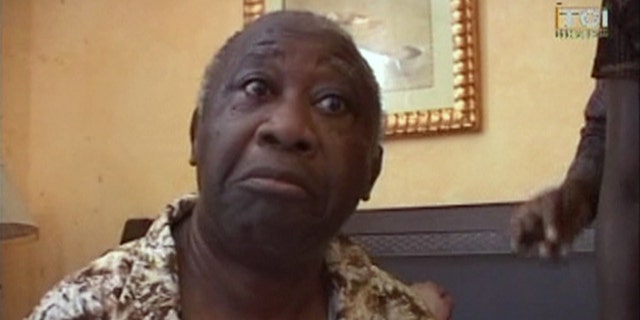 ABIDJAN, Ivory Coast – Ivory Coast's president tried to establish order in the days after the country's strongman was arrested, moving him to a secure location and assuring the public that looting and gunfire will cease, and life will soon return to normal.
President Alassane Ouattara said Laurent Gbagbo had been moved out of the Golf Hotel, where he was taken after his capture on Monday. He said Gbagbo will be kept in a villa and that his rights as a former head of state will be respected. A U.N. official said that its peacekeeping forces are providing personal security protection for Gbagbo.
"Gbagbo is in a residence under surveillance somewhere in Ivory Coast," Ouattara told reporters at the Golf Hotel.
The justice minister is preparing for possible prosecution of Gbagbo, he said, but gave no details.
"There will be charges (against Gbagbo) on a national level and an international level," he said. "Reconciliation cannot happen without justice."
The Hague-based International Criminal Court had no immediate comment on Ouattara's statement.
Ouattara also repeated his call against violence and asked fighters to put down their arms so that the country's biggest city, which has been on lockdown while battles raged over the last two weeks, could return to normal.
"We need to secure the country, notably Abidjan," he said. "It is important for the country to emerge from this crisis on top."
The scars of fighting were still evident everywhere on Wednesday as civilians ventured out from their houses for the first time, and cars began to tentatively circulate, many with white cloths tied to their radio antenna so that they wouldn't be mistaken for combatants.
Ouattara said he will settle into the presidential palace in the coming days, but that a swearing-in ceremony is not a priority and will take place at a later date. He said his priority is to provide security for Ivorians, to establish law and order and to get the country working. Many Ivorians went without food and water as fighting roiled the nation last week. An Associated Press reporter said that on the road from the port city of San Pedro to the central city of Gagnoa there was also no petrol available.
Teams of Red Cross workers combed the city for corpses, shoveling their charred remains off the pavement and stacking black body bags in hearses.
Gbagbo refused to cede power after losing a November election, leading to the standoff that plunged the West African nation into chaos and killed untold numbers of people. More than 1 million civilians fled their homes amid the fighting, which also completely shut down the economy of the cocoa-producing powerhouse.
U.N. peacekeeping chief Alain Le Roy said Wednesday that the United Nations provided transportation for Gbagbo and continues to provide personal security protection for him while he is in custody at Ouattara's request.
Speaking to reporters before a Security Council meeting about the West African country, Le Roy said fighting continued in Ivory Coast Wednesday, along with "quite a bit of looting."
Armed men in uniform ransacked a car dealership in the southern end of town on Wednesday afternoon, trying desperately to start the cars in the showroom, even though they didn't have keys.
Across town, a pro-Ouattara patrol arrested two men who were trying to siphon gas from the underground reservoir at a service station. Their commander lectured the prisoners, screaming that all looting has to stop immediately.
U.N. humanitarian chief Valerie Amos painted a bleak picture of daily life in Ivory Coast, with food scarce, entire neighborhoods without electricity, and many hospitals and schools closed.
"We need to act now," Amos said, appealing on nations to donate more money for humanitarian assistance to the West African county. "We must not let the people of Ivory Coast down."
Amnesty International on Wednesday called on the U.N. mission in Ivory Coast to protect displaced civilians who want to return to their villages but are afraid to do so.
"Thousands of people are hiding in the bush in life threatening conditions and without any proper food or sanitation. They need to be allowed to return to their homes," said Gaetan Mootoo, Amnesty's Ivory Coast researcher.
Amnesty said that scores of villages between the towns of Guiglo and Blolequin, 370 miles west of Abidjan, have been burnt or looted and most residents have fled because of fighting there in March.
Ouattara on Wednesday also said that an investigation would be opened into the mass killings.
Rights groups have accused pro-Gbagbo and pro-Ouattara fighters of killings hundreds since March. Reprisal killings erupted as Ouattara's fighters made a lightning assault to force Gbagbo from power. And despite Gbagbo's detention, suspected Gbagbo supporters are still being rounded up in cities and villages, especially in western Ivory Coast.
No one knows how many people have been killed. A week ago when the United Nations was reporting more than 400 deaths throughout the country, the International Federation of the Red Cross Society said thousands had been killed and wounded.
Philippe Bolopion, U.N. director for Human Rights Watch, said that "by recognizing the seriousness of allegations that armed groups, including the Forces republicaines (Republican Forces) loyal to Ouattara, were involved in the massacres in the West, and by pledging full accountability, the new Ivorian government is sending the right message to the Ivorian people and to the world."
He called on the international community to assist Ivory Coast's government so that they can launch credible investigations.