Italy's highest court to rule in Amanda Knox case, likely sparking a US vs. Italy 'double jeopardy' extradition fight
Italy's highest court on Wednesday took up the appeal of Amanda Knox's murder conviction, more than seven years after the American was accused in the brutal killing of her British roommate in Perugia.
The decision, which is expected this week, is likely to spark a U.S. versus Italy extradition battle that would call into play the American legal system's "double jeopardy" rule.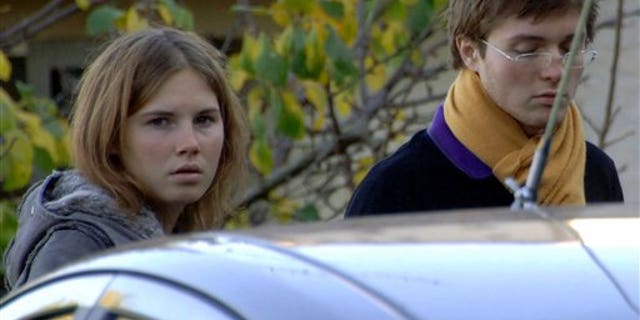 The court will consider the fate of a "very worried" Knox, according to her attorney, as judges decide whether the former undergraduate student's convictions and 28 ½-year sentence should stand. The court also will decide on the 25-year sentence of Knox's ex-boyfriend, Raffaele Sollecito, who was also convicted in the murder of  21-year-old British student  Meredith Kercher.
Kercher was found dead Nov. 2, 2007, in the apartment she shared with Knox in the idyllic hillside town of Perugia, where both women were studying. Her throat was slashed and she had been sexually assaulted.
Suspicion quickly fell on Knox and Sollecito, who were arrested in the days after the murder. The couple denied involvement and said they had spent the evening at Sollecito's place watching a movie, smoking pot and making love.
They were found guilty by a trial court in Perugia in 2009, but freed in 2011 after an appellate court overturned the convictions.
"Amanda is innocent."
They found themselves back in an appellate court after the Court of Cassation vacated the acquittals in 2013 in a harsh rebuke of the Perugia chief appellate judge's reasoning.
To date, the high-profile legal saga of Knox and Sollecito has produced flip-flop guilty-then innocent-then guilty verdicts, polarizing observers in three nations. Knox has been portrayed alternately as a victim of a botched investigation and shoddy Italian justice, or a promiscuous predator who falsely accused a Congolese bar owner of the murder.
Now, Italy's highest court could decide to confirm the convictions, throw out the convictions and order a third appeal trial or, less likely, it could overturn both convictions without ordering a retrial, which would be tantamount to an acquittal.
A decision by the judges to confirm the convictions would then raise questions of extradition for Knox since she is free in the U.S. That verdict would then divert attention from Italy's judicial process to a matter of diplomatic ties.
According to Business Insider, some legal experts say the U.S. Constitution's "double jeopardy" ban on being tried twice for the same offense after an acquittal would stand in Knox's favor, and that U.S. courts would frown on her having been tried in absentia.
Others argue the very existence of an extradition treaty implies that the United States accepts the Italian justice system, strengthening the case for extradition.
If Italy were to make an extradition request, it would likely be granted, Julian Ku, a professor of international law at Hofstra University, told The New York Times.
U.S. State Department officials say they are monitoring the case, Business Insider reports.
Knox, who has maintained her innocence throughout, was awaiting the ruling in her hometown of Seattle. She is "worried, very worried," said her attorney, Carlo Dalla Vedova.
Asked if he would call Knox with the court's decision even if it came in the middle of the night in the U.S., Dalla Vedova said: "I don't think she's sleeping much."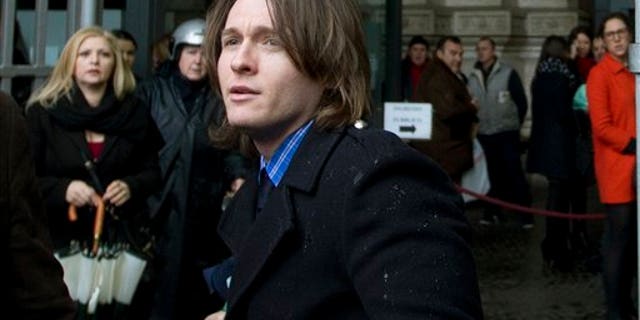 Television crews mobbed Sollecito as he made his way into the courthouse, where he huddled with his attorney before the hearing began.
"I'm here all day, also tonight," he said.
His attorney, Giulia Bongiorno, said she hoped the court would annul the guilty verdicts, saying the ruling was "littered with errors and absolutely littered with contradictions and by an illogical motivation."
Also on hand for the hearing was Diya "Patrick" Lumumba, the owner of pub where Knox occasionally worked whom she falsely accused of the murder.
The Florence appeals court that convicted Knox and Sollecito most recently last year said in its ruling that the pair acted in concert with Rudy Hermann Guede, a drifter born in the Ivory Coast who is serving a 16-year sentence for his role in the killing and sexual assault. The presiding judge contended that Knox herself delivered the fatal knife blow, writing that the American wanted to "humiliate the victim."
Knox has called the reversal unjust and blamed an "overzealous and intransigent prosecution," "narrow-minded investigation" and coercive interrogation techniques.
Knox, who spent nearly four years in jail during the investigation and after her lower court conviction, remains free in the United States. Her spokesman David Marriott said she would await the decision in Seattle. She has vowed never to return willingly to Italy.
One of her attorneys, Luciano Ghirga, said before the hearing began that he was certain the high court would rule in her favor.
"I have always been confident," he said. "Amanda is innocent."
The Associated Press contributed to this report.