Italy pushes for new diplomatic effort in Libya; UN peacekeeping operation not on the agenda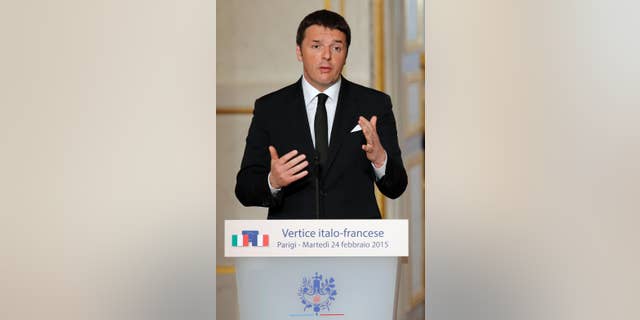 PARIS – Italy's prime minister says a U.N. peacekeeping operation in Libya isn't on the agenda yet and has called for a new diplomatic effort in the international community as the security situation rapidly deteriorates in the country.
Matteo Renzi, speaking at a news conference during a trip to Paris, says conditions haven't been met for a U.N. peacekeeping operation.
French President Francois Hollande says Paris is supporting Italian efforts to help find solutions in Libya.
Both leaders are pushing for a U.N. initiative to promote political dialogue among Libyans, who are divided among competing militias, Islamist factions and tribal rivalries.
Two weeks ago, Italy appeared to be supporting military intervention, but Renzi has since stressed diplomacy.